North Dakota State College of Science is committed to minimizing the risk and spread of COVID-19. NDSCS's central focus is fulfilling our mission while minimizing risk for all stakeholders. NDSCS recognizes that the threat from COVID-19 is not over, and it continues to impact our community and lives in different ways. However, NDSCS strives to minimize that risk through planning, communication, and encouraging responsibility of all community members throughout these unprecedented times (and beyond).
NDSCS COVID-19 Reporting
Members of the NDSCS Community are expected to notify the College through the below form if they have:
Tested positive for COVID-19
Been notified by a state health department official (or the positive individual under the direction of the NDDoH) that they have been identified as a close contact to someone that has tested positive for COVID-19
Symptoms consistent with COVID-19 
This form should also be used to report concerns about COVID-19 exposure to the College community. The purpose of this form is to inform the College that a student or employee has COVID-19, has been identified as a close contact, and/or has symptoms consistent with COVID-19.
NDSCS COVID-19 Status Update
NDSCS COVID-19 case update is cumulative since August 16, 2021. Summer 2022 data will be updated July 1 and August 1.
NDSCS provided weekly COVID-19 status and case updates as an indicator of the level of activity of COVID-19 in our College community during the academic year. During Fall 2021 semester and Spring 2022 semester (ending May 25, 2022) data was updated by 3 p.m. each Monday, except for holidays that fell on weekdays.
Confirmed Positive Cases = Individuals who have tested positive for COVID-19
Recovered Cases = Individuals who have recovered after having a confirmed COVID-19 positive test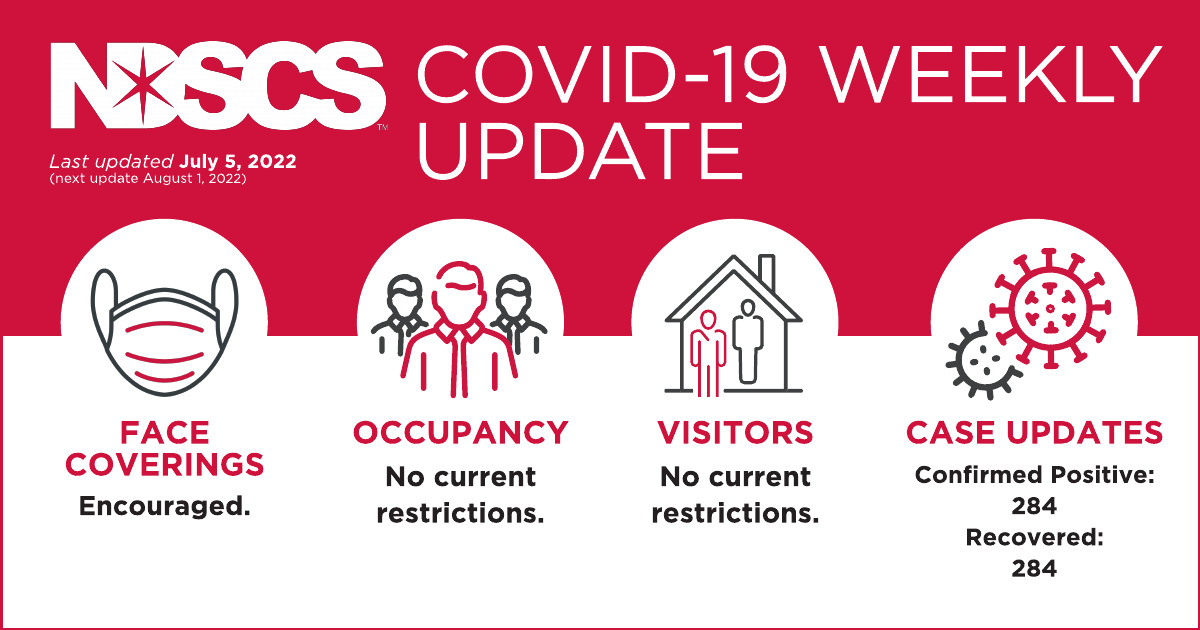 *This data reflects information provided to the College, in cooperation with local and state health departments and self-reporting. Official reporting and contact tracing for COVID-19 is being managed by the North Dakota Department of Health with NDSCS's cooperation. There may be additional positive cases that have not been reported to NDSCS. These numbers include NDSCS community members (students, faculty, staff), regardless of location that the individual lives, works, and/or learns. Data is collected and reported through the Vice President for Student Affairs and Strategy office: 701-671-2627 and the Human Resources office: 701-671-2903
Student, employee and other confidentiality laws prohibit disclosure of identities of any individuals. If you were a close contact of a person who has tested positive, you will be contacted by a public health official and will receive instruction on quarantine and symptom monitoring.
For information regarding COVID-19 in Richland and Cass County and the state of North Dakota, visit ND Department of Health.