UAS technology is one of the fastest growing industriesand new applications of this technology are constantly being discovered in many different industries around the world.
Academic Options
off
Unmanned Aircraft Systems (UAS)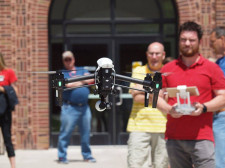 The Unmanned Aircraft Systems (UAS) certificate program is designed to provide a broad understanding of the use of UAS in a commercial environment.
Type: Certificate
Locations: Wahpeton
Cluster: Architecture and Construction
This certificate program is structured to be taken in conjunction with another NDSCS academic program option. If taken as a standalone program, it does not qualify for financial aid funding due to Department of Education requirements.
Add this Certificate to an Associate's Degree you are currently pursuing and you will be an important asset for your future employer as a Remote Pilot.
Students will learn how to fly, collect and process data through hands on learning in these areas:
Photogrammetry
Thermography
Multi-spectral Imaging
LiDAR
Photography
Videography
Students will also learn how to process 3D models, 3D surfaces, calculate surface volumes, analyze thermal images, analyze vegetation with NDVI mapping, use LiDAR data, edit photos and create video productions using:
Pix4D Imaging Software
ESRI ArcGIS
Autodesk Civil 3D
Autodesk Recap
Autodesk Infraworks
Adobe Lightroom
Adobe Photoshop
Adobe Premiere Pro
Adobe After Effects