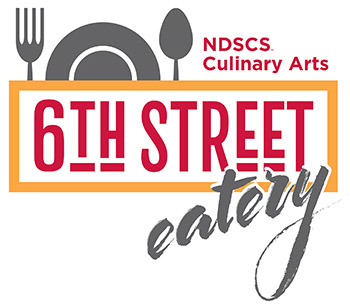 The 6th Street Eatery, a restaurant operated by students in the Culinary Arts program, features a variety of menus during spring semester. Spring semester days and hours of operation are listed below:
Tuesdays & Thursdays from 5 to 7 p.m.
Wild Grounds Cafe in the Hektner Student Center
At the 6th Street Eatery, we strive to provide an outstanding guest-focused experience. We are dedicated to providing a quality education that showcases our creativity and passion for the Culinary Arts. Extraordinary, delicious, and unique food that challenges our student's skills and top-tier service awaits you.
off
2022 Dates and Features
January 20 - OPENING NIGHT!

January 25 

Student Chef - Grace Lamberson 

Starter - Lemon-Dijon Arugula Salad - $4

A poached egg, bacon crumbles, and halved cherry tomatoes on a bed of arugula topped with a lemon-dijon vinaigrette
Entree - Grilled Mahi-Mahi - $16
A 7-ounce grilled mahi-mahi filet served on a bed of quinoa topped with a sunflower pesto compound butter and crispy fired rice noodles
Dessert - Sun Butter Mousse - $4
Red wine poached pear alongside sunflower butter mouse topped shortbread pastry and garnished with chocolate drizzle and honey tuiles

January 27 

Student Chef - Quentin Selix

Starter - Chicken Florentine Flatbread - $5

A focaccia flatbread with a white wine cream sauce, topped with chicken, spinach, parmesan, basil and parsley
Entree - Veal Parmesan - $14
An 8 oz. veal cutlet topped with mozzarella and marinara over a bed of fettuccini pasta
Dessert - Vanilla Panna Cotta Tart - $4
A vanilla panna cotta tart with a chocolate shell and a raspberry gelee

February 1

February 3

February 8

February 10 

February 15 & 17 (Valentine's Day Menu)

February 24 

March 1

March 3 

March 8

March 10 (Scholarship Dinner)

April 12 & 14 (Buffet Series)
Reservations for Dine-In
Due to limited seating, reservations are required.
Please call 701-671-2405 for reservations beginning Tuesday at 5 p.m. the week prior to the restaurant date.
Please do not call early for reservations.
Large groups (more than 6) will be accommodated when possible, but may not be seated in the same section.
Reservations can be made, as usual, by calling 701-671-2405 on the Tuesday, the week prior to the restaurant you wish to attend. Opening time for reservations will be 5 p.m. - instead of 1 p.m. Just call to tell us the date you want to attend, the time and the number of guests. We'll accommodate larger groups as possible but can't guarantee seating together.
Food To-Go
Are you interested in ordering take out from the 6th Street Eatery? Now you can!
How to order
Orders can be placed between the hours of 4-6:30 p.m. on 6th Street Eatery nights. Call 701-671-2583 to place your order with our Dining Room Manager.
How to pick up
Orders can be picked up between 5-7 p.m. Estimated wait time is 30 minutes from ordering your food. Come to the Hektner Student Center at NDSCS. Stop at the host table as you enter the Wild Grounds Cafe to pay and grab your food.