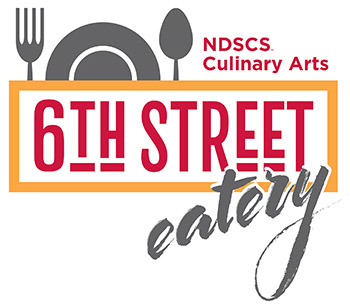 The 6th Street Eatery, a restaurant operated by students in the Culinary Arts program, features a variety of menus during spring semester. Spring semester days and hours of operation are listed below:
Tuesdays & Thursdays
5 to 7 p.m.
Red River Valley Room
Hektner Student Center
Reservations
Due to limited seating, reservations are required.
Please call 701-671-2405 for reservations beginning Tuesday at 5 p.m. the week prior to the restaurant date.
Please do not call early for reservations.
Large groups (more than 6) will be accommodated when possible, but may not be seated in the same section.
Something New to Remember!
Reservations can be made, as usual, by calling 671 - 2405 on the Tuesday, the week prior to the restaurant you wish to attend. Opening time for reservations will be 5 p.m. - instead of 1 p.m. Just call to tell us the date you want to attend, the time and the number of guests. We'll accommodate larger groups as possible but can't guarantee seating together.
2019 Restaurant Dates
January
17 - Start up Menu - click here for menu
24 - Tex-Mex Buffet - click here for menu
29 & 31 - Italian - click here for menu
February
5 & 7 - Retro - click here for menu
12 & 14 - Valentine - click here for menu
21 - Harry Potter theme - click here for menu
26 & 28 - Steakhouse - click here for menu
March
5 & 7 - Comfort Food - click here for menu
11-15 - Spring Break
26 & 28 - Fine Dining - click here for menu
April
12 – Dreams Auction
25 - Asian Theme Buffet 
May
10 - Graduation