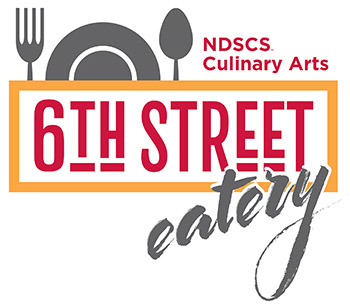 The 6th Street Eatery, a restaurant operated by students in the Culinary Arts program, features a variety of menus during spring semester. Spring semester days and hours of operation are listed below:
Tuesdays & Thursdays from 5 to 7 p.m.
Wild Grounds Cafe in the Hektner Student Center
At the 6th Street Eatery, we strive to provide an outstanding guest-focused experience. We are dedicated to providing a quality education that showcases our creativity and passion for the Culinary Arts. Extraordinary, delicious, and unique food that challenges our student's skills and top-tier service awaits you.
off
2022 Dates and Features
January 20 - OPENING NIGHT!

January 25 

Student Chef - Grace Lamberson 

Starter - Lemon-Dijon Arugula Salad - $4
A poached egg, bacon crumbles, and halved cherry tomatoes on a bed of arugula topped with a lemon-dijon vinaigrette

Entree - Grilled Mahi-Mahi - $16
A 7-ounce grilled mahi-mahi filet served on a bed of quinoa topped with a sunflower pesto compound butter and crispy fired rice noodles
Dessert - Sun Butter Mousse - $4
Red wine poached pear alongside sunflower butter mouse topped shortbread pastry and garnished with chocolate drizzle and honey tuiles

January 27 

Student Chef - Quentin Selix

Starter - Chicken Florentine Flatbread - $5

A focaccia flatbread with a white wine cream sauce, topped with chicken, spinach, parmesan, basil and parsley
Entree - Veal Parmesan - $14
An 8 oz. veal cutlet topped with mozzarella and marinara over a bed of fettuccini pasta
Dessert - Vanilla Panna Cotta Tart - $4
A vanilla panna cotta tart with a chocolate shell and a raspberry gelee

February 1

Student Chef - Alissa Metzger

Starter - Creamy Butternut Squash Bisque - $4
A spiced and roasted butternut squash garnished with fresh maple cream and toasted pecans
Entrée - Rosemary Lamb Shank and Truffle Potatoes - $15
Tender braised lamb shank with rosemary and herb crust served with a caramelized onion and pear pan sauce, truffle mashed potatoes, and broccolini
Dessert - Honey Almond Tart with Peach Sorbet - $4
A sweet honey tart paired with a house-made peach bellini sorbet 

February 3

Student Chef - Liz Schadler

Starter - Mini Beef Tourtiéres - $7
Miniature savory Pastries filled with ground beef, prosciutto, onion, and herbs paired with a rich red wine demi sauce.

Entrée - Bourbon Pecan Chicken - $13
Pecan crusted chicken breast paired with a bourbon pan sauce and served with smashed rosemary potatoes and sautéed broccolini

Dessert - Chocolate Blood Orange Tart - $4
Chocolate tartlet with a blood orange filling and vanilla whipped cream

February 8

Student Chef - Eli Maki

Starter - French Onion Soup
Medallions - $5
Housemade miniature sourdough soft rolls filled with gruyere cheese and topped with caramelized onions

Entrée - Pan-seared lemon and herb halibut filet - $19

Seared garlic and herbed halibut steak served with roasted yellow and red peppers, rice pilaf, topped with crispy shallots and a citrus pan sauce. 
Dessert - Lemon lavender French macarons - $4
Delicate French macarons with a whipped lemon lavender buttercream

February 10 

Student Chef - Jarrett Joy

Starter - Smoke Salmon Canape - $6
Cold smoked salmon lox on a toasted baguette with avocado spread
Entrée - Grilled Chicken Airline - $14
Grilled chicken breast topped with tomato citrus sauce served with wild rice tumble and garlic broccolini
Dessert - Key Lime Chiffon Pie - $4
A fresh and tart key lime chiffon pie with brown sugar graham crust

February 15 & 17 (Valentine's Day Menu)

Same Menu both nights this week

Starter - Salmon Croquettes $9
Three crispy fried salmon croquettes on top of a bed of mixed greens and drizzled with a chipotle aioli
Entreés 
Surf and Turf (GF) $23
A grilled 5 oz bacon wrapped fillet mignon and 5 marinated and grilled shrimp served with smoked gouda mashed potatoes and grilled carrots. Tip with Paris herb or bourbon butter if you wish.

Chicken and Sausage Cannelloni - $12
Fresh-made pasta stuffed with spinach, grilled sausage, chicken, mushrooms and backed in a garlic white wine cream sauce, served with balsamic brussel sprouts and crunchy garlic crostini's.
Dessert
Cheesecake $6
Creamy cheesecake with a graham cracker crust served with raspberry coulis and crispy meringue.

Chocolate Fudge Cake $6
A four-layer chocolate fudge cake with chocolate ganache frosting. Big enough to share with your valentine.

Blood Orange Mascarpone Panna Cotta $5
A blood orange mascarpone panna cotta topped with blood orange supremes and served with a blood orange and raspberry sauce.

February 24

Student Chef - Stephanie Vipond

Starter - Prosciutto Flatbread - $6
A garlic and herb flatbread with kale, prosciutto, fontina cheese, and mozzarella with a balsamic drizzle
Entrée - Scallop Scampi - $15
A pasta dish made with angel hair pasta, seared scallops, spinach, and tomatoes in a garlic white wine sauce
Dessert - Affogato - $4
A hot and cold delicacy with homemade vanilla bean ice cream and an espresso shot pour over

March 1

Chef Kyle Armitage

Starter - Crispy fried smashed potatoes tossed in bravas seasoning drizzled with smoked paprika tomato sauce and garlic aioli.
Entrées
Cavatelli with Sage Brown Butter - $13
Handmade cavatelli pasta with savory shredded beef, wilted kale, and charred cipollini onion. All tossed with a sage brown butter sauce.

Seafood Stuffed Walleye - $20
A 6 oz. walleye fillet stuffed with rich shrimp and crab stuffing topped with saffron cream and parmesan herb crumb. Served with crispy smashed potatoes and sauteed garlic broccolini.
Dessert - Vanilla Bean Créme Brulée - $6
Caramel-crusted créme brulée with triple berry sorbet and crunchy cake crumbles.

March 3 

Chef Benjamin J. Whitmore CEC

Starter - Black Tie Scallops - $8
Entrées 
Cinder-Brined Pork Chops with Maple-Bacon Chutney - $16
Hand-cut Iowa chip brined in apple cider and grilled. Topped with 6th Street Smokehouse maple bacon chutney. Served with mashed sweet potatoes and crispy brussel sprouts.

Salmon and Spinach Crêpes - $18
Two 3-ounce salmon fillets topped with spinach, sundried tomato, and shredded parmesan cheese folded inside savory crêpes, topped with chive cream sauce. Served with crispy smashed potatoes and sauteed garlic broccolini. 
Dessert - Chocolate Mocha Pot de Créme - $6
Dark Belgian chocolate and heavy cream infused with espresso powder, topped with sweet cream and chocolate shavings 

March 8 and 10

Donor Dinner 

Starter - Beef Barbacoa Tacos - $6
Three grilled flour tortillas filled with braised shredded beef, lime cabbage slaw, pickled red onions, and topped with cotija cheese and fresh lime.
BBQ Pork Belly - $7
Seared pork belly dusted with BBQ powder served bacon aioli and roasted red pepper sauce.
Entrées -
Steak Frites - $14
Grilled beef hanger steak with caramelized scallion sauce service with house-made rosemary parmesan fries and garlic aioli.
Tournedos of Beef - $17
Two seared beef tenderloin cutlets served on garlic baguette with a madeira demi sauce served with garlic broccolini and smoked gouda mashed potatoes.

Stuffed Port Tenderloin - $16
Pork Tenderloin filled with an apple, mushroom, and safe stuffing with a  mushroom cream sauce. Accompanied by mashed sweet potato and shaved brussel sprout and apple salad.

Shredded Pork Empanadas - $13
Flaky pastry dough filled with smoke braised pork carnitas and cheese served with roasted poblano cream and fresh Napa cabbage salad.
Desserts
Vanilla Bean Créme Brulée - $6
Caramel-crusted créme brulée with triple berry sorbet and crunch cake crumbles

Sour Cream Cake - $5
Rich sour cream cake layered with fresh strawberries and almond whip cream nestled in vanilla créme anglaise.

April 12 & 14 (Buffet Series)

Southern Menu - $17.99 + tax (No takeout this week)

Starters
Chicken and Sausage Gumbo Soup
Coleslaw, Quick Pickled Vegetables, Creamy Cucumbers
Collard Greens
Baked Calico Beans
Fried Green Tomatoes
Dirty Rice

Main
Seafood Boil
Southern Gator or Chicken Po-boy Sandwich
Carved Smoked Brisket
Mac N Cheese
Fried Chicken Legs

Dessert
Peach Cobbler
Corn Bread and Honey Butter
Banana Pudding
Sweet Potato Pie

All served with Sweet Tea and Lemonade
Reservations for Dine-In
Due to limited seating, reservations are required.
Please call 701-671-2405 for reservations beginning Tuesday at 5 p.m. the week prior to the restaurant date.
Please do not call early for reservations.
Large groups (more than 6) will be accommodated when possible, but may not be seated in the same section.
Reservations can be made, as usual, by calling 701-671-2405 on the Tuesday, the week prior to the restaurant you wish to attend. Opening time for reservations will be 5 p.m. - instead of 1 p.m. Just call to tell us the date you want to attend, the time and the number of guests. We'll accommodate larger groups as possible but can't guarantee seating together.
Food To-Go
Are you interested in ordering take out from the 6th Street Eatery? Now you can!
How to order
Orders can be placed between the hours of 4-6:30 p.m. on 6th Street Eatery nights. Call 701-671-2583 to place your order with our Dining Room Manager.
How to pick up
Orders can be picked up between 5-7 p.m. Estimated wait time is 30 minutes from ordering your food. Come to the Hektner Student Center at NDSCS. Stop at the host table as you enter the Wild Grounds Cafe to pay and grab your food.