Learn the art and technology behind toolmaking in the Precision Machining Technology program at NDSCS.

Are you a student who is interested in the Precision Machining Technology program at NDSCS? Find out how to visit NDSCS at NDSCS.edu/Visit or register to attend a SEE NDSCS Day. 
Are you a school counselor or instructor interested in bringing a group of students to NDSCS to learn more about Precision Machining Technology? Find out more about our Program Visit Days. 
Academic Options
off
Precision Machining Technology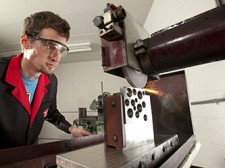 The Precision Machining Technology program provides students experience in machining as it pertains to machining, toolmaking and mold making.
Type: Certificate, Diploma, A.A.S. degree
Locations: Wahpeton
Cluster: Manufacturing, Science, Technology, Engineering and Mathematics

» View Program Information & Admission Requirements
In the NDSCS Precision Machining Technology program, you'll learn about CNC programming, CNC set-up and operation, production machining, mold making, die making, toolmaking and automated manufacturing. 
A partnership with HAAS Automation, one of the largest CNC machine tool builders, ensures that you are learning and training on state-of-the art machining equipment.