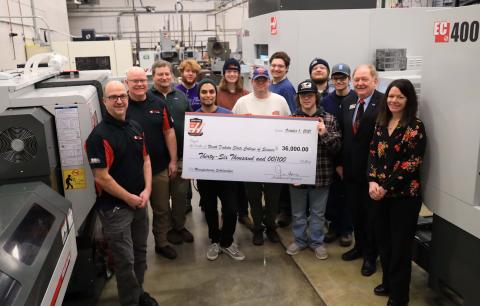 01-31-2022
The Gene Haas Foundation (GHF) has awarded a $36,000 grant to support the Precision Machining Technology department at the North Dakota State College of Science. The funds will be used to award scholarships to current and future NDSCS Precision Machining Technology students. Representatives from Productivity, Inc. visited to present the check on behalf of the Gene Haas Foundation. 
An additional $18,000 was received as a result of the North Dakota 1:2 Challenge Grant - that will be awarded to incoming students ($2,000 each to 9 students) in the fall of 2022. 
This year's grant follows a tradition of giving from the Gene Haas Foundation. From 2018-2020, the Gene Haas Foundation has awarded $100,000 with 64 students benefiting from these scholarships. 
The purpose of the Gene Haas Foundation is to build skills in the machining industry by providing scholarships for CNC Machine Technology students and NIMS Credentials. The Gene Haas Foundation was founded in 1999 by Gene Haas, the owner of Haas Automation, Inc., America's leading builder of CNC (Computer Numerical Control) machine tools. 
NDSCS became one of the first Haas Technology Education Center's (HTEC) in the United States. The Gene Haas Foundation has consistently provided scholarships to NDSCS for over 10 years. Interim President Harvey Link says, "This is a result of excellent teaching, dedication to the industry and company partnerships."
Students in the NDSCS Precision Machining Technology program learn about CNC programming, CNC set-up and operation, production machining, mold-making, die-making, toolmaking and automated manufacturing. Additional, information about the NDSCS Precision Machining Technology program can be found online at ndscs.edu/machining.