Mission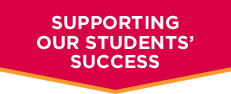 The student success division supports students and the College by providing programs and services aimed at broadening access, increasing degree attainment and fostering lifelong success.
Your success is our priority!
Student Success Center
The Student Success Center is a one-stop location for students, faculty and staff to find help with the following:
Academic Help & Questions
Tutoring
Class Schedule Changes
Academic Program Changes
Career Planning & Job Search Assistance
Test Center
Accessibility Services
Quiet & Group Study Spaces
Student Concerns & Complaints
And more!
Hours: Open Monday-Thursday until 9 p.m. and Fridays until 4:45 p.m.