NDSCS has partnered with John Deere to offer a focused two-year technician program.
Are you a student who is interested in the John Deere Tech program at NDSCS? Find out how to visit NDSCS at NDSCS.edu/Visit or register to attend a SEE NDSCS Day. 
Are you a school counselor or instructor interested in bringing a group of students to NDSCS to learn more about John Deere Tech? Find out more about our Program Visit Days. 
Academic Options
off
John Deere Tech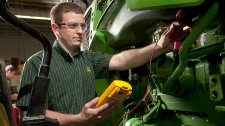 The John Deere Tech program is designed to develop technically competent, professional ag equipment service technicians. This unique program combines state-of-the-art, on-campus training with supervised occupational experiences at a sponsoring John Deere dealership.
Type: A.A.S. degree
Locations: Wahpeton
Cluster: Transportation
Green Technology Available

» View Program Information & Admission Requirements
The NDSCS John Deere Tech program prepares you for a career in the high-tech, fast-paced world of a John Deere Service Technician.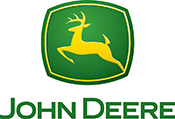 As part of the John Deere PowerUp program, students learn through classroom, hands-on lab work and John Deere dealership internships—tremendous opportunities to learn in the real world. 
You'll cover John Deere diesel engines, powertrains, hydraulics and machine set-up systems in-depth while becoming proficient with high-tech electronics, computer diagnostics and proprietary John Deere systems. Plus you'll also benefit from learning the communication and customer relations skills essential for your success.