off
John Deere Tech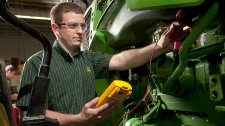 The John Deere Tech program is designed to develop technically competent, professional ag equipment service technicians. This unique program combines state-of-the-art, on-campus training with supervised occupational experiences at a sponsoring John Deere dealership.
Type: A.A.S. degree
Locations: Wahpeton
Cluster: Transportation
Green Technology Available

» View Program Information & Admission Requirements
The NDSCS John Deere Tech program prepares you for a career in the high-tech, fast-paced world of a John Deere Service Technician.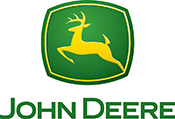 As part of the John Deere PowerUp program, students learn through classroom, hands-on lab work and John Deere dealership internships—tremendous opportunities to learn in the real world. 
You'll cover John Deere diesel engines, powertrains, hydraulics and machine set-up systems in-depth while becoming proficient with high-tech electronics, computer diagnostics and proprietary John Deere systems. Plus you'll also benefit from learning the communication and customer relations skills essential for your success.