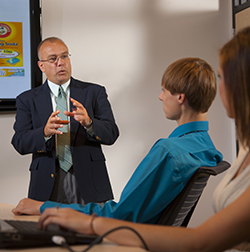 The Liberal Arts degree with an emphasis in Business Administration at NDSCS-Fargo is for students who intend to earn a four-year degree. It provides a smooth transition into an accounting, business administration, finance, marketing or international business baccalaureate program at a four-year institution and will provide a blend of both general education and business courses. 
Upon completion, students will be awarded an Associate in Arts degree in Liberal Arts.
For more information
Contact a Fargo Admissions Representative at 701-231-6935.
First Semester
| Course # | Name (credits) |
| --- | --- |
| ACCT 200 | Elements of Accounting (4) |
| ECON 201 | Principles of Microeconomics (3) |
| BUSN 120 | Fundamentals of Business (3) |
| BADM 201 | Principles of Marketing (3) |
| ENGL 110 | College Composition I (3) |
| FYE 101 | First Year Experience (1) |
Second Semester
| Course # | Name (credits) |
| --- | --- |
| ACCT 201 | Elements of Accounting II (4) |
| ECON 202 | Principles of Macroeconomics (3) |
| ENGL 120 | College Composition II (3) |
| BADM 251 | Personal Finance (3) |
| PSYC 111 | Introduction to Psychology (3) |
Third Semester
| Course # | Name (credits) |
| --- | --- |
| ACCT 215 | Business in the Legal Environment (3) |
| PHIL 210 | Ethics (3) |
| CSCI 116 | Business Use of Computers |
| MATH 103 | College Algebra (3) |
| SOC 110 | Sociology (3) |
| Wellness Elective | (2) |
Fourth Semester
| Course # | Name (credits) |
| --- | --- |
|   | Humanities/History Elective: Not PHIL (3) |
|   | Science/Lab Elective (4) |
| MATH 210 | Elementary Statistics (3) |
| COMM 110 | Fundamentals of Public Speaking (3) |
| BADM 202 | Principles of Management (3) |