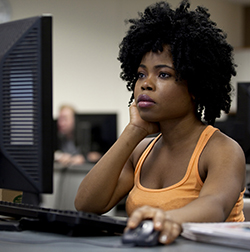 Are you computer-minded with an inquisitive nature or knack for solving puzzles? Imagine uncovering the truth through technology. With more and more crimes being committed with the use of computers, IT forensics provide secure computer environments while also collecting and analyzing digital information. If you're interested in the world of fighting crime, via computer, then consider earning a certificate in IT Forensics at NDSCS.
This certificate, when paired with one of the Information and Communications Technology two-year degrees (such as an A.A.S. in Information Systems Administrator), will show versatility and provide advanced skills in IT Forensics.
Navigate your way to a job as a computer security or information technology specialist, computer forensics technician or cybercrimes investigator.
Upon completion, students will be awarded a certificate in Information and Communications Technology with an emphasis in IT Forensics.
For more information
Contact a Fargo Admissions Representative at 701-231-6935.
First Semester
| Course # | Name (credits) |
| --- | --- |
| CIS 128 | Hardware I (3) |
| CIS 164 | Networking Fundamentals I (4) |
| CIS 241 | IT Forensics I (4) |
| CIS 282 | Computer System Security (4) |
| FYE 101 | Science of Success (1) |
Second Semester
| Course # | Name (credits) |
| --- | --- |
| CIS 129 | Hardware II (3) |
| CIS 242 | IT Forensics II (4) |
| CIS 284 | Managing Network Security (4) |
| Electives | ENGL/COMM (3) |
| PHIL 210 | Ethics (3) |