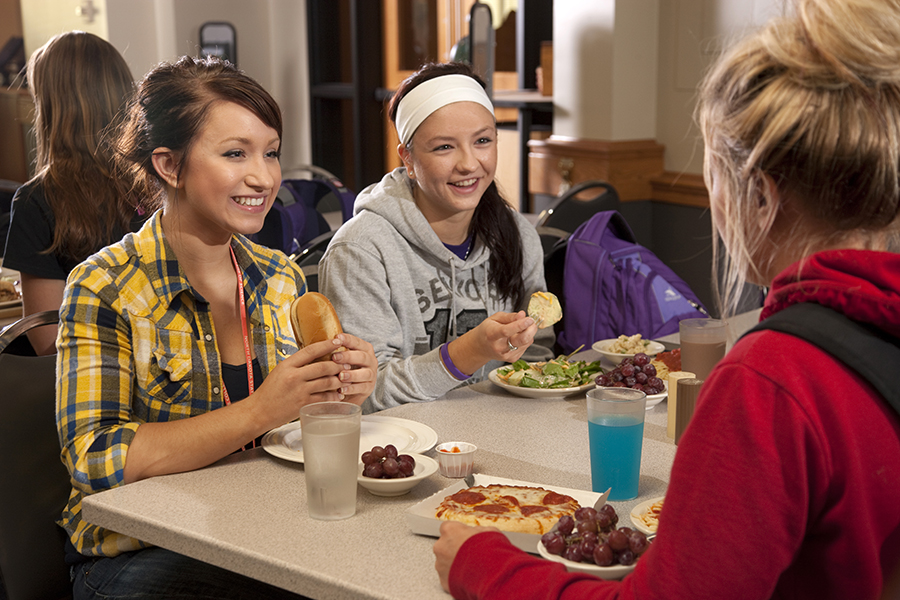 right-50
Each day at NDSCS, students, faculty and staff can choose from dozens of meal possibilities, all served by Dining Services.
Students can choose from among four meal plans, each designed for students who share common characteristics. For instance, students who are eating on campus should look into the 225 Dining Plan. It provides 14 meals per week and is the most popular dining plan among students.
The 300 Dining Plan, perfect for students spending their weekends on campus, is the best deal.
All students living in a residence hall are required to purchase a Dining Plan. First-year students who are living in the residence halls must choose a 160, 225 or 300 Dining Plan. Those who do not choose a plan will be assigned a 225 Dining Plan.
NDSCS also offers a wide variety of catering services. Click here to find out more.
Click here to access your NDSCS Housing and Dining Application.
GET App - It's a New Way to Pay
Use your mobile device to scan into the Flickertail Dining Room or Wild Grounds Cafe in Wahpeton. Download the app today!
Reducing the Spread of COVID-19
NDSCS Dining Services is focused on reducing the risk and spread of COVID-19. All protocols align with the current identified risk level – more information can be found here.
In all NDSCS dining services spaces, individuals must:
Wear face coverings at all times, unless seated and eating/drinking
Utilize hand sanitizer when entering and leaving the dining space
Observe physical distancing – not moving table/chairs
Limit dining time to 30 minutes
Use to-go containers for all meals
For questions or concerns, contact NDSCS Dining Services at 701-671-2331
off
Wildcat Bucks
Wildcat Bucks is a prepaid debit account that can be used at NDSCS Dining Services and the NDSCS Bookstore.
Parents may deposit money into a student's Wildcat Bucks account by sending a check to: NDSCS Dining Services/Hektner Student Center, 800 6th St. N., Wahpeton, ND 58076.
Remember to write the student's ID number on the lower left corner of the check.
Deposits may be refunded at any time. Please allow 7-10 days.
Use your Wildcat Bucks to receive a 5% discount on your purchase at either of the two Dining Services locations.
Dining Dollars
225 and 300 Dining Plans include $50 in Dining Dollars - a debit account that is prepaid by Dining Services. This convenience allows you to eat at anytime during the day - a full meal or a between-meal snack - at either Dining Services location. 
Dining Dollars are intended to be used by students who miss meals on their meal contract or who do not purchase a large enough plan to eat on weekends, but do stay on campus for an occasional weekend event.  
Dining Dollars are only available if you stay on the meal plan for the entire semester. Early withdrawal from a plan will terminate the Dining Dollars account and any Dining Dollars spent that semester will be deducted from your refund.  
If your Dining Dollars account balance runs low, you can deposit money into a Wildcat Bucks account. This account works the same as the Dining Dollars account, but can also be used in the NDSCS Bookstore.   
Contact Dining Services at 1-800-342-4325, ext. 3-2321 to learn more about starting your Wildcat Bucks account.
Wild Grounds Cafe - Wahpeton
The Wild Grounds Cafe is a quick-service restaurant and coffee shop that accepts cash, Wildcat Bucks and Dining Dollar sales. The Wild Grounds Cafe offers a wide variety of food choices such as hamburgers and deli sandwiches. They can provide you with an assortment of between-meal snacks.
Hours
Monday-Friday: 7:45 a.m. - 3 p.m.
Saturday & Sunday: Closed
Please call 671-2411 between the hours of 9:30 a.m. - 3 p.m. for assistance. 
Wild Grounds Coffee Shop - Fargo
Check out the Wild Grounds Coffee Shop located right inside NDSCS-Fargo!
The Wild Grounds Coffee Shop serves freshly brewed coffee and beverages, bottled drinks, muffins and pastries, sandwiches (including breakfast), paninis, salad, yogurt, fruit, desserts and much more.
Hours
Monday-Friday: 7:30 am - 2:30 pm (while classes are in session)
NDSCS Dining Services Food Allergy Warning
Food Allergy Warning
The North Dakota State College of Science Dining Services Department makes every attempt to identify ingredients that may cause allergic reactions for those with food allergies and intolerances.  However, there is always risk of contamination.  Additionally, manufacturers may update and change their product ingredients without our knowledge, we cannot be assured the validity of the products. 
Dining Services will not assume any liability for adverse reactions to foods consumed, or items one may come in contact with while eating at any NDSCS dining rooms or catered events.  Students, staff, faculty, and guests with food allergies are encouraged to contact NDSCS Dining Services at 701-671-2439 for additional information and/or support.