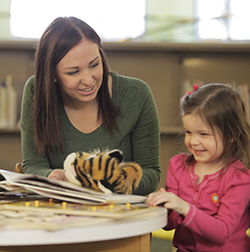 Students entering the Education transfer curriculum plan at NDSCS-Fargo are exposed to a wide range of courses and disciplines. 
Kindergarten, elementary and secondary school teaching requires a wide variety of skills and aptitudes, including the following: 
Talent for working with children
Organizational, administrative and record-keeping abilities
Research and communication skills
The power to influence, motivate and train others
Patience 
Creativity
Upon completion, students will be awarded an Associate in Arts degree in Liberal Arts. Students can transfer to other colleges or universities to take their education courses and to student teach.
For more information
Contact a Fargo Admissions Representative at 701-231-6935.
First Semester
| Course # | Name (credits) |
| --- | --- |
| COMM 110 | Intro. to Public Speaking (3) |
| ENGL 110 | College Composition I (3) |
| PSYC 111 | Intro. to Psychology (3) |
| MATH 103 or MATH 104 | College Algebra or Finite Mathematics (3) |
| CSCI 116 | Business Use of Computers (3) |
| FYE 101 | Science of Success (1) |
Second Semester
| Course # | Name (credits) |
| --- | --- |
| ENGL 120 | College Composition II (3) |
| PSYC 230 | Educational Psychology (3) |
| Lab Sci | Lab Science: Advisor will help determine (4) |
| SOC 110 | Intro. to Sociology (3) |
| ENGL 2xx | Humanities: Literature Course (3) |
| Wellness | Elective (1) |
Third Semester
| Course # | Name (credits) |
| --- | --- |
| POLS 115 | American Government (3) |
| PSYC 250 or PSYC 270 | Developmental Psychology or Abnormal Psychology (3) |
| PSYC 210 | Child Development (3) |
| SOC 115 | Social Problems (3) |
| HIST 103 | U.S. History to 1877 (3) |
| Wellness | Elective (1) |
Fourth Semester
| Course # | Name (credits) |
| --- | --- |
| HIST 104 | U.S. History Since 1877 (3) |
| POLS or HIST Elective | Political Science or History Elective |
| MATH/SCI/CIS Elective | Math, Science or CIS Elective (3) |
| EDUC 250/298 | Intro. to Education/Pre-Professional Field Experience (3) |
| Gen Ed Elective | General Education Elective (3) |
| Gen Ed Elective | General Education Elective (3) |