We are here to help
Any student, employee or visitor who has questions or concerns about sex discrimination, harassment or sexual violence at NDSCS is encouraged to report and/or seek the assistance of the trained Title IX staff.
---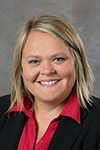 Sandi Gilbertson
Interim Title IX Coordinator
Executive Director of Human Resources
​701-671-2904
---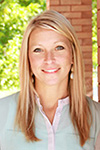 Melissa Johnson
Deputy Title IX Coordinator
Executive Director of Student and Residential Life
701-671-2520
---
Title IX Staff Training
Title IX requires that all individuals involved in the grievance process, including, but not necessarily limited to, the Title IX Coordinator and Deputy Title IX Coordinators, investigators, decision makers and any person who facilitates an informal resolution process, receive training on the following areas:
The definition of sexual harassment;
The scope of the education program or activity; 
How to conduct an investigation and grievance process, including hearings, appeals and informal resolution processes; and
How to serve impartially, including by avoiding prejudgement of the facts at issue, conflicts of interest, and bias.
Title IX also requires that NDSCS post its training materials - click here for a complete list of trainings by the NDSCS Title IX team. This list will be updated periodically, as appropriate.
Title IX Training Materials
2021.4 D. Stafford & Associates Investigation of Sexual Misconduct
2021.4 Decision Maker Book V2
2022.2 Grand River Solutions Athletic Equity
2022.3 ATIXA VAWA Reauthorization
2022.6 ATIXA 2022 Proposed Regulations webinar
2022.6 Grand River 2022 draft Title IX Reg webinar
2022.6 NDSCS Title IX Team Training
2022.7 Cupa-HR Proposed changes to Title IX Presentation-Slides
2022.7 Grand River Investigations and Hearings Refresher
2022.7 Grand River Trauma Informed Investigations Training
2022.8 Grand River Investigative Report and Determination Letter writing
2022.11 Clery Center VCATS slides
2022.11 VCATS- PPT Title IX
2023.6 Title IX Team Training
2022.11 NASPA Title IX Informal Training Materials
2023.4 Grand River Title IX Athletics Proposed Rule 2023 Summary Session 
2023.10 ATIXA Overview of Title IX and Case Studies
2023.11 NACCOP VAWA Adjudicator Training - Purpose and Objectives
2023.11 NACCOP VAWA Adjudicator Training - Disciplinary Proceeding Requirements
2023.11 NACCOP VAWA Adjudicator Training - HR Considerations for Employee Cases