All first-year students are REQUIRED to live on campus, unless the student meets one of the following:
Is 21 years of age or older.
Lives with a parent or legal guardian within a 50-mile radius of NDSCS.
Will be enrolled in nine or fewer credit hours during both the fall and spring semesters of this academic year.
Is married or has primary custody of a minor child.
Is transferring in with 24 or more college credits. Dual credits, PSEO, AP or other credits completed while in high school do not qualify.
Is enrolled in online classes only.
Has extenuating circumstances.
Students should not make alternate living arrangements until their exemption request has been approved by the Residential Life Department.
If you qualify to live off-campus as a first-year student, you must complete the request for exemption application through your CampusConnection account. View the instructions below.
Click here to complete the exemption request.
Exemption Request Instructions
Go to the following URL to get to your Housing Self Service portal: https://ndscs.datacenter.adirondacksolutions.com/ndscs_thdss_prod/navigation/student/my-screen
Note: If you have not already claimed your NDUS account, please claim here. If you are having difficulty logging into the Campus Connection, please call the NDSCS IT Service Desk at 701-671-3333, office hours are Monday – Friday from 7:45 am to 4:45 pm during the academic year and Monday – Thursday from 7:45 am to 4:45 pm and Friday from 7:45 am to 3:00 pm during the summer. If you need assistance after business hours, please contact the NDUS Help Desk available 24 hours a day at 1-866-457-6387. 
Log in with your Campus Connection username and password.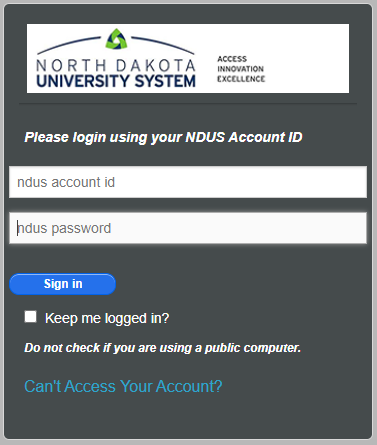 left-50
Click on the drop down arrow on the "Application" tab and select "NDSCS Exemption Request"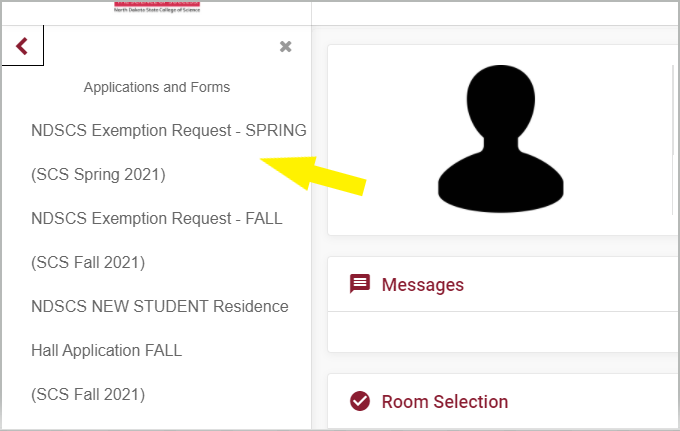 full
If you qualify for an exemption based on one of the reasons above, sign your name on the line or in the box and click submit.
You can view our full Housing and Dining License Contract by clicking the link as indicated.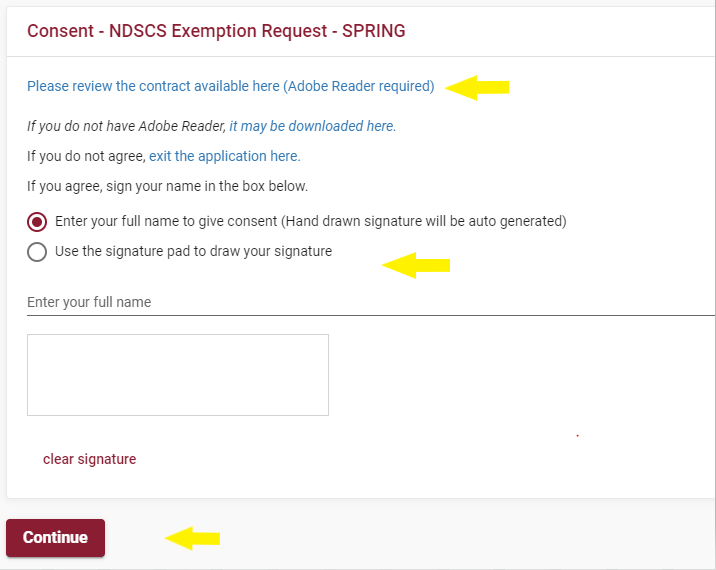 full
Complete the 'My Information' screen.
Any item marked with an asterisk (*) is required. After all questions are answered, click the Continue button.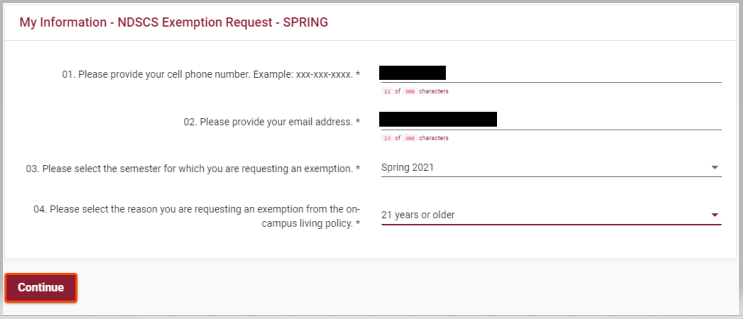 full
​
Complete any follow up questions that appear.

full
​
You will then see the Application Complete screen.
You will also receive an e-mail confirming your completion of the exemption request. If you do not see this screen, your application has not been processed. If you do not receive a confirmation email or have any questions regarding your exemption request, please contact the Residential Life office at 1-800-342-4325 ext. 32224 or 701-671-2224.

full