Study Health Information at NDSCS and join one of the fastest growing occupations in the U.S.

Are you a student who is interested in the Health Information program at NDSCS? Find out how to visit NDSCS at NDSCS.edu/Visit or register to attend a SEE NDSCS Day. 
Are you a school counselor or instructor interested in bringing a group of students to NDSCS to learn more about Health Information? Find out more about our Program Visit Days. 
Academic Options
off
Health Information Technician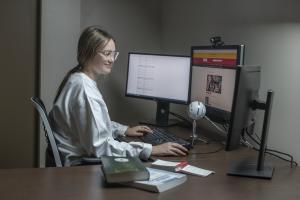 The Health Information Technician program combines a profession in health care with information technology. Students participate in two professional practice experiences that are a combination of onsite and virtual experiences.
Type: A.A.S. degree
Locations: Online, Wahpeton
Cluster: Health Science

» View Program Information & Admission Requirements
Medical Coding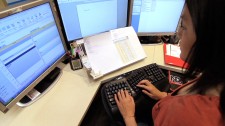 The Medical Coding option prepares students with the necessary skills to be employed as a medical coder in coding and reimbursement in a variety of health care settings including hospitals, clinics, home health agencies, long-term care and insurance companies.
Type: Certificate
Locations: Online, Wahpeton
Cluster: Health Science

» View Program Information & Admission Requirements
​​Health Information Technician
Health information professionals care for patients by caring for their medical data, focusing on completeness, accuracy and protection. They use computer applications to organize, analyze, evaluate, and report health data, complying with laws, standards, and regulations. Health information technicians often specialize in coding diagnoses and procedures in health records for reimbursement and other purposes.
The Health Information Management accreditor of NDSCS is the Commission on Accreditation for Health Informatics and Information Management Education (CAHIIM). The College's accreditation for Associate's degree in Health Information Technology has been reaffirmed through 2028. All inquiries about the program's accreditation status should be directed by mail to CAHIIM, 200 East Randolph Street, Suite 5100, Chicago, IL, 60601; by phone at (312) 235-3255; or by email at info@cahiim.org.
Medical Coding
Program Approval Statement
The North Dakota State College of Science Medical Coding program option is approved by the AHIMA Professional Certificate Approval Program. This designation acknowledges the coding program as having been evaluated by a peer review process against a national minimum set of standards for entry-level coding professionals. This process allows academic institutions to be acknowledged as offering an approved coding certificate program.
"Value for Students" Statement
The AHIMA Foundation's Professional Certificate Approval Program designation:
a. Identifies specialized programs that meet established coding educational standards
b. Stimulates improvement of educational standards through faculty development opportunities, and by involving faculty and staff in program evaluation and planning
c. Promotes a better understanding of the goals of professional coding education
d. Provides reasonable assurance that practitioners possess the necessary job skills upon entry into the profession

Timeframe of Program Approval
July of 2018 to July 17, 2021 with annual interim approval during these years.
Program goals and student outcomes are available for review in the program handbook.
Program Information 
Health Information Careers - Your all-in-one health information careers resource
Year
RHIT Certification Exam Pass Rate
Job Placement Rate
Retention Rate
2021-22
100%
100%
67%

See Placement Report information below.