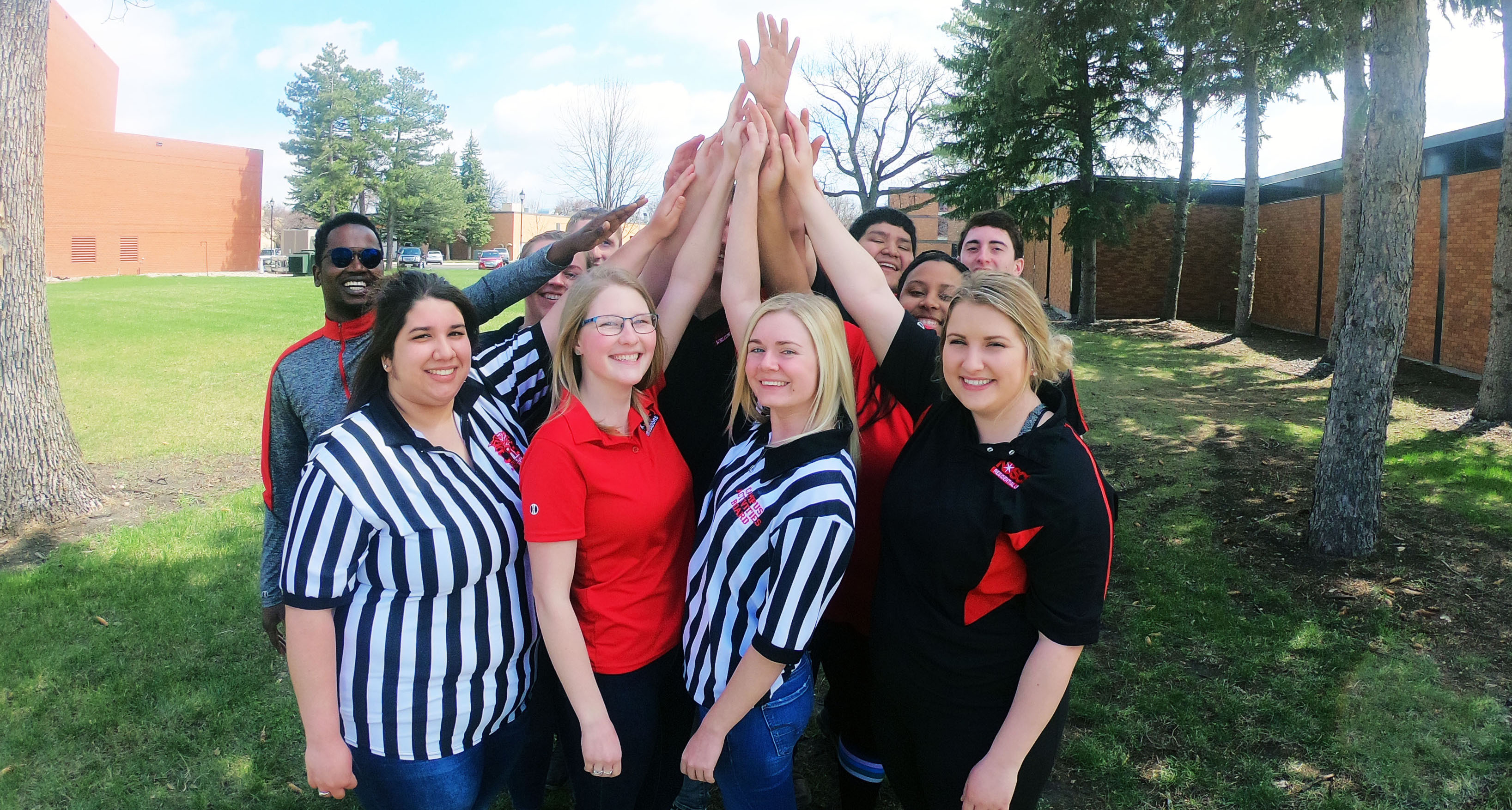 full
off
Student Clubs & Organization
The Science of Success begins here! To make sure you learn all you can, NDSCS sponsors over 30 student-run clubs and organizations. If you're serious about getting ahead in life, there's no better place than here to begin.
Annual Club Membership Form
All clubs are required to submit their officers and club roster to the Department of Student Life annually. This information is used for our general education report.
Service-Learning Project Proposal Form
Club Service-Learning Guidelines
Purpose
The Student Senate supports service learning and has required all clubs participate in no less than one service-learning project annually in order for clubs to remain an NDSCS officially recognized club. Students' college experience can be greatly enhanced by providing a service to someone in need.  
What is Service Learning?
Service learning is a teaching and learning strategy that integrates meaningful community service with instruction and reflection to enrich the learning experience, teach civic responsibility and strengthen communities.
Why Service Learning?
Service-Learning:
leads to engagement
helps achieve good citizenship
fosters the development of important personal and social skills
develops stronger ties to schools, communities and society
promotes exploration of various career pathways
is associated with positive school environments
is associated with more community support for schools
A Successful Service-Learning Experience will have four components:
Investigate Determine an area of need in your school or community. Contact the area in need to determine how you can implement and plan how you can help
Prepare/Plan Work with your advisor or the agency that you are assisting to create a plan. What is your goal? What steps do you need to take to accomplish your goal? What supplies do you need?
Action Plan a time to help when most or all of your club members are able to attend. Then, begin your project.  
Reflection Reflect on your experience as a group. Discuss together what you learned. Consider the following questions:
Did you accomplish your goal?
What did you learn from this opportunity?
Would you recommend completing this project again? Why or why not?
Did you receive any feedback?  
Selecting a Project
The project should:
Benefit a school or community organization
Benefit a non-profit or individual in need
Be realistic and obtainable
Be 100% volunteer (you or your club is not paid in money or any other benefit for doing so)
Make a difference
Examples include:
Field of study experience
Be a part of a bigger service-learning project, (i.e. United Way Day of Caring)
Address service and maintenance needs
Serving the homeless and/or hungry
Creating awareness for oppression
Helping the environment
Fostering the arts
Promoting literacy
Volunteering with animals
Advocating for social justice
Creating awareness for violence and abuse prevention
Serving the elderly or young children
Creating opportunities for or supporting education
As a reminder, you are representing your program, club and NDSCS:
Listen carefully and follow directions
Honor time commitments
Arrive prepared
Ask questions so you understand expectations
Uphold the NDSCS Student Rights & Responsibilities: a Code of Conduct at all times
Club Year-End Evaluation Form
All club advisors are required to submit a year-end evaluation of club activities. This information is used for our general education report and to communicate with incoming students about the nature of this club.
Club Fundraising Application
Eligibility 
Any NDSCS official student club in good standing may apply to raise funds.
Authorization
No student fundraising activity may take place without prior Student Senate approval. Fundraising petitions are approved on a first-come, first-serve basis. All petitions must be completed in full and submitted at least two weeks prior to starting the fundraising activity. The Student Senate will approve or deny all club and/or organization fundraising requests. The Student Senate may determine a time limit, prices of items/services to be sold and priority of conflicting fundraising applications, if necessary.
Examples of approved projects are:
Sale of merchandise
Sale of services
Raffles
Clubs wishing to hold functions off-campus must first secure the approval from their advisor before presenting their application to the Student Senate.
Location 
All student fundraising (except certain designated off-campus projects) must be conducted from an approved area. This information must be shared on your fundraising application. The club is responsible for reserving space in the Lobby of the Hektner Student Center with the Department of Student Life or the Front Desk at NDSCS Fargo prior to contacting Student Senate.
Restrictions
No soliciting is permitted outside the designated locations, but services contracted within the location may be performed outside. Absolutely no off-campus soliciting is allowed, door-to-door business, locally or any other place. A club found in violation is immediately suspended until further notice. Only activities which provide a direct benefit to the students, such as merchandise, services, or entertainment will be approved.
All financial obligations are the responsibility of the club.  
Evaluation 
A fundraising report must be completed and submitted to the Student Senate within two weeks after each fundraising event. New petitions will not be issued to organizations whose report of a previous project is not on file.
Violators of these requirements shall incur immediate suspension of charter and shall be officially notified. The Student Senate will conduct a hearing which could result in temporary or permanent loss of charter as well as loss of campus privileges, such as eligibility for funding, use of college resources, campus meeting sites, homecoming allocation, inter-collegiate associations, advisor, fundraising activities, or other as specified at the time of the hearing. The faculty or staff advisor will be notified that a hearing is being conducted and will be notified of any actions that are taken.
Club Fundraising Report
All clubs participating in a fundraising project must complete a report within two weeks of the project's completion.
Club Funding Request Form
Eligibility
Must be recognized as an official NDSCS club.
Must provide all information required in the Annual Club Membership Form.
Must provide all information required in the Club Funding Request Form below.
Guidelines
Club funding guidelines allow no more than 50% funding for any request, pending availability of funds. Your request must reflect this:
Only student expenses can be paid with club funds
Individual dues or club membership fees may not be paid from club funds
Provide the following: list of members attending this trip, trip itinerary, quote and/or invoice for transportation, receipts for expenses incurred.
Notification
An award letter will be sent to the advisor's email address in November
May a club submit more than one request?
Clubs may submit up to 3 requests per academic year. Only one request can be submitted at a time. Please use the form below for each request.
How does a club obtain funds once approved?
Depending on if you prefer an interdepartmental transfer of funds or a check, sign a standardized NDSCS Request for Payment Form (RFP) or Interdepartmental Billing Form (IDB):
A copy of the appropriate form (RFP or IDB) will be included with your award letter
Attach an updated list of members attending (if membership roster has changed since you originally submitted)
Forward to ndscs.studentlife@ndscs.edu or drop off at the Student Life Department, Hektner Student Center
Deadline to submit for approved funding: May 29, 2020
What if I need funding prior to my club trip?
The process above for obtaining funds must be submitted 3 weeks prior to the club trip. If the club does not spend all of the funds received, the balance must be returned within 10 days to Student Life.
Start a New Club
Have an idea for a new club or organization? We recognize our students unique interests and encourage you to start a new club if what interests you isn't currently represented in the list above. To create a new club:
Talk to NDSCS Faculty and Staff to identify a new club advisor (advisor must be full-time benefited NDSCS faculty or staff); then
Complete the Petition to Organize and Charter a New Campus Organization form.
Once complete, the form will be submitted to the NDSCS Student Senate and routed for official approval.
If you have further questions, please call Student Life at 701-671-2109.
Club Risk Assessment
Clubs and organizations are encouraged to review the forms below to determine risk involved with club activities.