off
Plumbing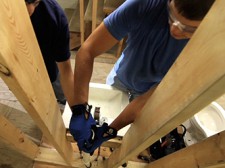 The Plumbing program provides theory, code and hands-on training to prepare students for work in the plumbing field. The program also provides training in blueprint reading, drafting and electricity as well as a course that focuses on workplace safety.
Type: Certificate
Locations: Wahpeton
Cluster: Architecture and Construction
Green Technology Available

» View Program Information & Admission Requirements
Students in the NDSCS Plumbing program receive hands-on experience in both lab and design courses – plus training in other essential areas like drafting and blueprint reading. Meaning in just one year, you'll be prepared to launch your successful career in the plumbing industry.