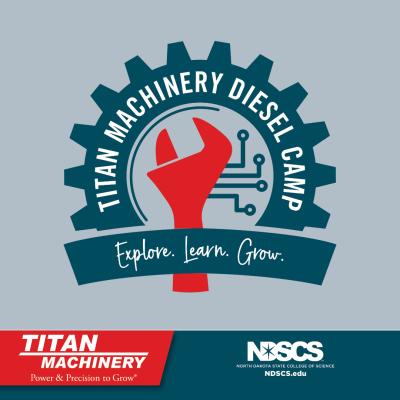 The Titan Machinery Diesel Camps provide 9th and 10th grade students with the opportunity to step into the work boots of a Service Technicians/Diesel Mechanic!
Campers will be actively involved in hands-on mechanical projects, solving real-world problems and learning the ins and outs of equipment. They will work and learn alongside certified Diesel Technology instructors, industry experts, and current student technicians.
Camp attendees will gain an understanding of:
Shop safety
Diesel Technology basics
Precision Technology
Equipment operation
Careers in heavy equipment
And more!
NDSCS Titan Machinery Diesel Camp 2023
July 23 - July 26, 2023
Drop-off: 2:00 p.m. (Sunday)
Pick up: 12:00 p.m. (Wednesday)
off
NDSCS Diesel Camp Details
Campers at the NDSCS Diesel Camp will gain an understanding of shop safety, diesel technology basics (Electrical, Hydraulics, Drivetrain/PowerDrive, Engines, and Fuel Systems), and the future of technology within the equipment industry. From classroom to dealership, campers will explore all aspects of a career in diesel mechanics!
This will be an overnight (Sunday drop-off/Wednesday pick-up) style camp.
Cost: $50 per student (funding assistance is available)
Campers will be provided:
Overnight lodging (3 nights)
2 Uniform shirts
1 T-shirt
1 Baseball hat
1 Pair of mechanic gloves
1 Water bottle
1 Tool bag
1 Pair of safety gloves
Meals and snacks
Campers are required to:
Wear closed-toed shoes
Follow all safety rules and regulations