From dealerships to manufacturers – the NDSCS Powersports Technology program can take you anywhere in the power sports industry.

Are you a student who is interested in the Powersports Technology program at NDSCS? Find out how to visit NDSCS at NDSCS.edu/Visit or register to attend a SEE NDSCS Day. 
Are you a school counselor or instructor interested in bringing a group of students to NDSCS to learn more about Powersports Technology? Find out more about our Program Visit Days. 
Academic Options
off
Powersports Technology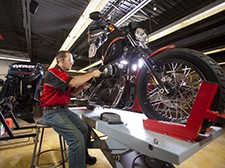 The Powersports Technology program prepares students to test, diagnose, adjust and repair outdoor power equipment, snowmobiles, motorcycles, ATVs, personal watercraft and outboard or inboard marine equipment.
Type: Diploma, A.A.S. degree
Locations: Wahpeton
Cluster: Transportation
Green Technology Available

» View Program Information & Admission Requirements
​The NDSCS Powersports Technology program is designed to provide you with hands-on experience with the latest tools for diagnostic and repair training on:
Outdoor power equipment 
Snowmobiles 
Motorcycles 
ATVs 
Personal watercraft 
Outboard/inboard marine equipment 
Develop the skills and abilities necessary to test, diagnose, adjust and repair various systems on all types of recreational equipment.