off
Powersports Technology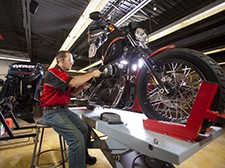 The Powersports Technology program prepares students to test, diagnose, adjust and repair outdoor power equipment, snowmobiles, motorcycles, ATVs, personal watercraft and outboard or inboard marine equipment.
Type: Diploma, A.A.S. degree
Locations: Wahpeton
Cluster: Transportation
Green Technology Available

» View Program Information & Admission Requirements
​The NDSCS Powersports Technology program is designed to provide you with hands-on experience with the latest tools for diagnostic and repair training on:
Outdoor power equipment 
Snowmobiles 
Motorcycles 
ATVs 
Personal watercraft 
Outboard/inboard marine equipment 
Develop the skills and abilities necessary to test, diagnose, adjust and repair various systems on all types of recreational equipment.