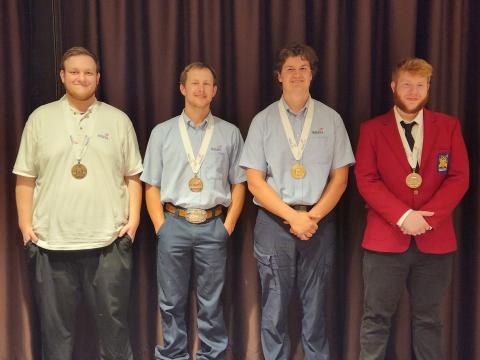 06-27-2023
North Dakota State College of Science (NDSCS) students recently earned top awards at the National SkillsUSA Championships held during the National Leadership and Skills Conference (NLSC) in Atlanta, Georgia. Four NDSCS students earned the national spotlight for their achievements.
Zachary Lahlum of Marion, N.D. earned a gold medal in the Power Equipment Technology category. In Power Equipment Technology, Lahlum's skills were tested in all areas of technology including: repair and maintenance of chainsaws and other handheld power equipment; understanding related theories; interpreting electrical and hydraulic schematics; and customer service skills. About his time competing in SkillsUSA, Lahlum noted, "I have made many great friends through SkillsUSA, but more importantly, I have been able to network with industry professionals. I enjoyed competing because everything is relevant and useful for my future career."
Cale Mouser of Tenstrike, Minn. also earned a gold medal award in the Diesel Equipment Technology category. Mouser cycled through 14 stations testing and troubleshooting engines, electrical and electronics systems, powertrain systems and more during this competition. He demonstrated numerous shop skills, and also performed a job interview and completed a written test. Involvement with SkillsUSA has clearly left an impression on Mouser, as he reports, "SkillsUSA is dedicated to preparing the leaders of the world's work force through hands-on involvement, industry partnerships, and access to up-and-coming technology. Through involvement in this organization, students are not only taught industry specific skills, but how to think critically and efficiently. It is through the skilled hands of thinkers that technology advances, and SkillsUSA is a crucial member in creating the industry of tomorrow."
Shayne Hoffman of New Hradec, N.D. won a bronze medal in the Architectural Drafting category. Hoffman, an Architectural Modeling & Design Technology student at NDSCS, used his drafting skills and Autodesk Revit computer software to design a residential addition to an existing home located in Florida. The competition included a written test, hand sketch, and drawings. Hoffman reflected on his experience by saying, "Through SkillsUSA I was able to see my progression year after year, which has helped me for my future career by improving my technical skills through the competition and my soft skills through networking with the many industry contacts who attend."
Ruari Devlin of Grand Forks, N.D. also won a bronze medal at the National SkillsUSA competition with his award in the CNC Programmer category. Devlin was evaluated, in part, on his ability to independently plan and program jobs for various types of CNC machines and provide instructions for operators to execute.
The SkillsUSA Championship is one of the largest hands-on workforce events in the world, and is known for competitions showcasing the best career and technical education students in the nation. This year, nearly 6,200 contestants from across the country competed in 110 separate events.
Article written by NDSCS and submitted to external news outlets.