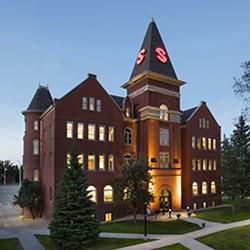 09-07-2018
Three students from the North Dakota State College of Science earned medals at the national SkillsUSA Championships this summer.
Tanner Klein, a Powersports Technology student from Bismarck, N.D., earned a gold medal in the Power Equipment Technology category. This contest tested student skills in all areas of this technology, including two- and four-cycle engines and the related theories that go along with them, drive trains, hydraulics, wiring schematics and customer service.
Chandler Rheault, a Welding Technology student from Fargo, N.D., secured a silver medal in the Welding Sculpture category. Welding Sculpture contestants demonstrate their ability to develop a design and produce a welding sculpture of that design, as well as deliver a presentation regarding all aspects of the design creation.
John Heidt, a Precision Machining Technology student from Dickinson, N.D., received a bronze medal in the CNC Turning Specialist category. In this contest, contestants are assessed on their ability to write Computer Numeric Control (CNC) turning and milling programs, interpret prints, and measure/gage parts.
The SkillsUSA Championships took place as part of the SkillsUSA 54th annual National Leadership and Skills Conference (NLSC), a showcase of career and technical education students. During the week, more than 6,300 career and technical education students competed hands-on in 102 different trade, technical and leadership fields.