Long-term, low interest funds can be borrowed to replace the parent and/or student contribution and any remaining unmet need. All loan checks are sent to the college for disbursement. Alternative funding sources are available for students who may not qualify for other types of financial assistance or who need additional funding to meet the cost of education.
NDSCS Financial Aid and its staff do not endorse or accept any incentives, financial or otherwise, from the lenders listed on FASTChoice.  Lender information is provided as a courtesy and in no way should it be interpreted as a requirement to use one of the listed lenders.
For additional information call the NDSCS Financial Aid Office at 1-800-342-4325 ext. 2207.
off
What are Alternative Student Loans?
Alternative student loans are non-federal, interest-bearing loans through private lenders. Approval is not guaranteed and the student may need a co-signer with good credit to apply. There are a variety of alternative student loans available and it's up to the student and co-signer to choose the one that is best for them.
Who is eligible?
Alternative student loans are available to undergraduate or their parents. Lender requirements may vary; contact the lender directly for all eligibility requirements.
How much can I apply for?
Step 1: CampusConnection Login
Log into CampusConnection.  The login page will look like the image below.
NOTE - You must complete the NDSU New Student Setup to activate your User ID, or you will be unable to log into Campus Connection. Follow the step-by-step instructions to activate your CampusConnection User ID. The normal format for this ID is firstname.lastname.  If you are unsure whether or not you have claimed your User ID, check through the Have I Claimed My Account page.
If you have previously attended another North Dakota University System (NDUS) institution you may already have an existing Campus Connection User ID. Please continue using this existing User ID to access Campus Connection at NDSCS.
If you experience problems or have questions about your System ID, please call the North Dakota University System Help Desk at 866-457-6387 or submit a Help Desk ticket: helpdesk.ndus.edu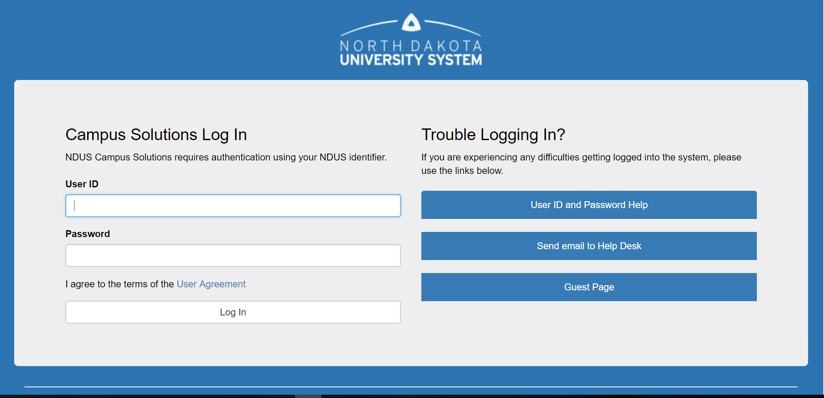 Step 2: Select View Financial Aid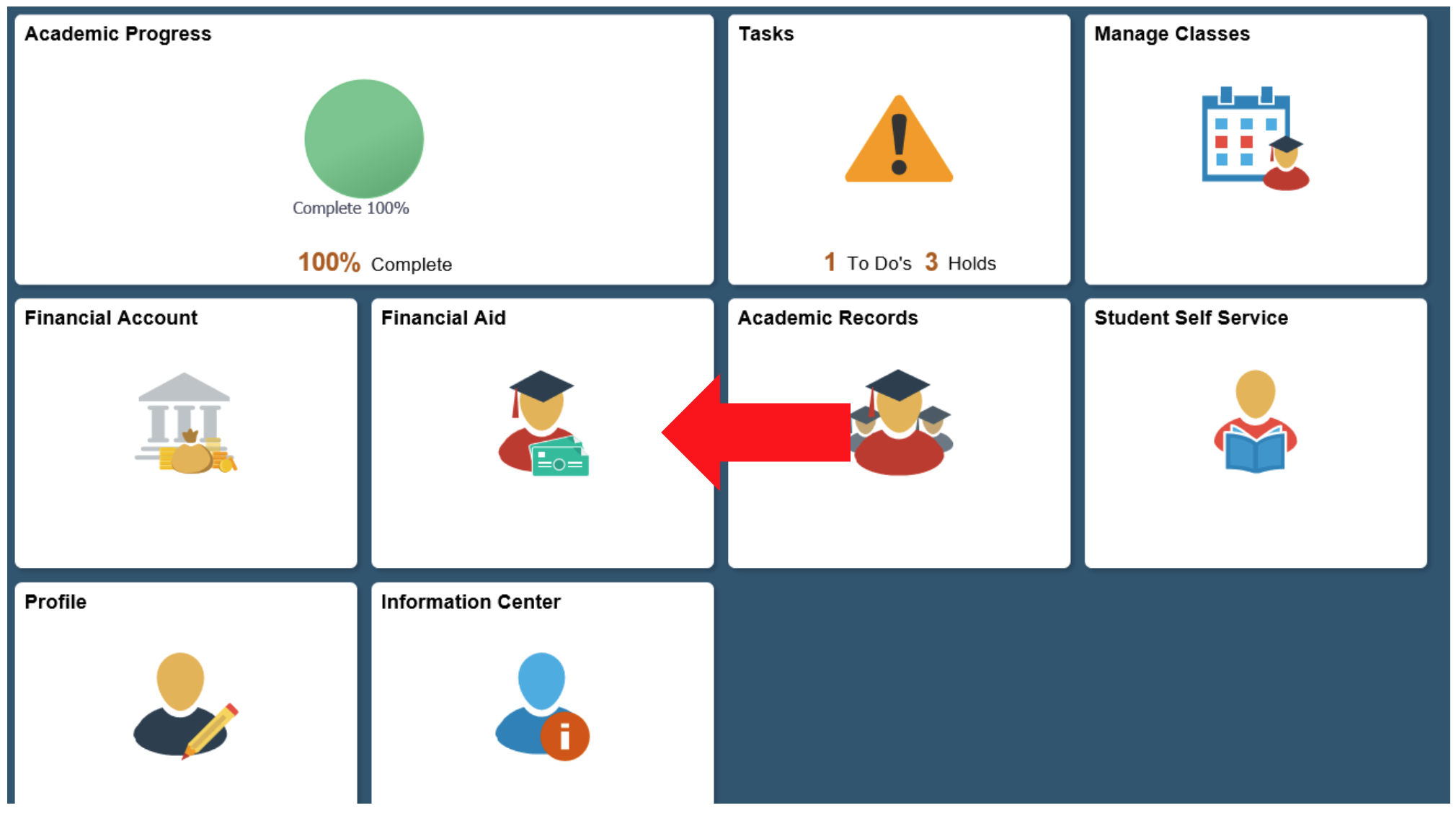 Step 3: Select Aid Year
Click the appropriate year in the "Aid Year" column on the left side of the screen. If you have received award notifications from more than one ND College be sure to click the "Aid Year" associated with NDSCS.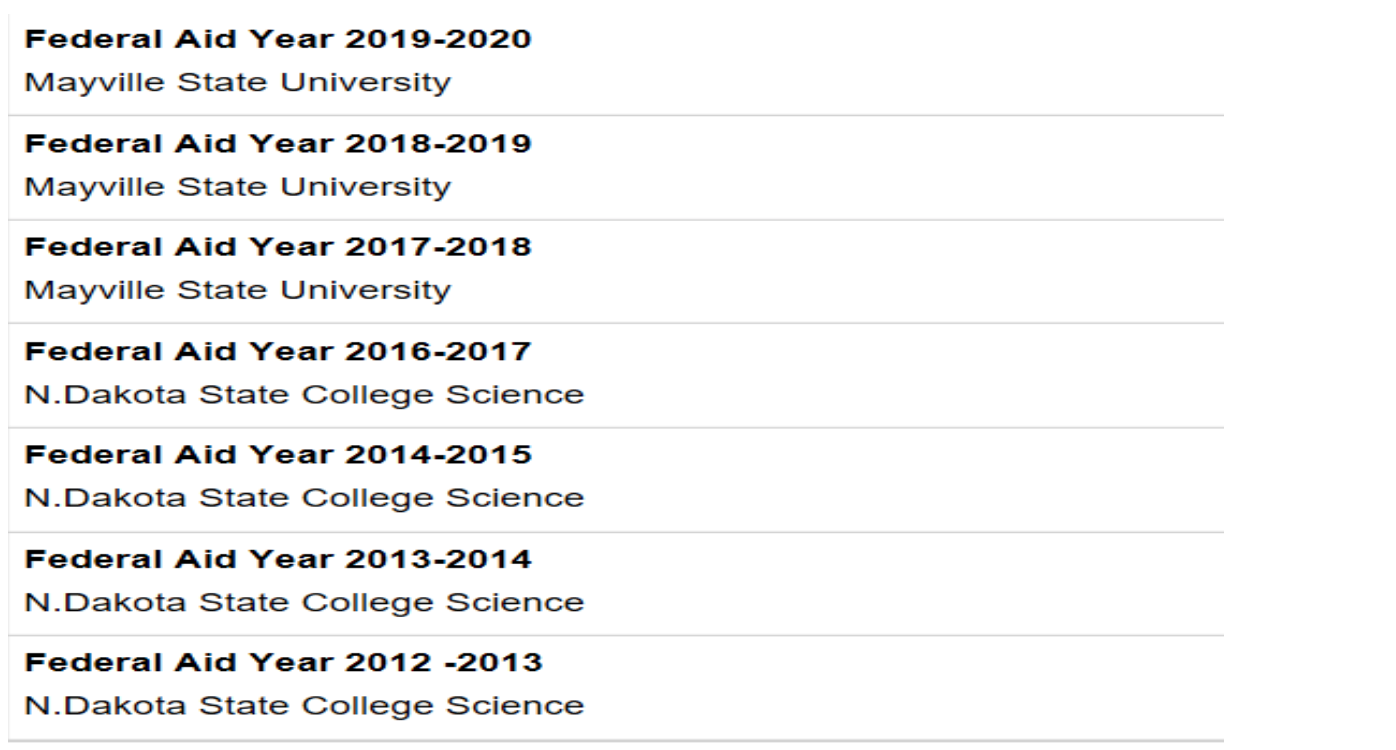 Step 4: Expand Financial Aid Summary and select Need Summary
To determine maximum private loan amount: Subtract Total Aid from Estimated Cost of Attendance to determine the maximum private loan amount you are eligible to borrow for either the Academic Year (fall/spring) or Summer.
Example: In the graphic below the student has an Estimated Financial Aid Budget of $14,392 and Total Aid of $8,684 which means the maximum private loan amount they could borrow is $5,708.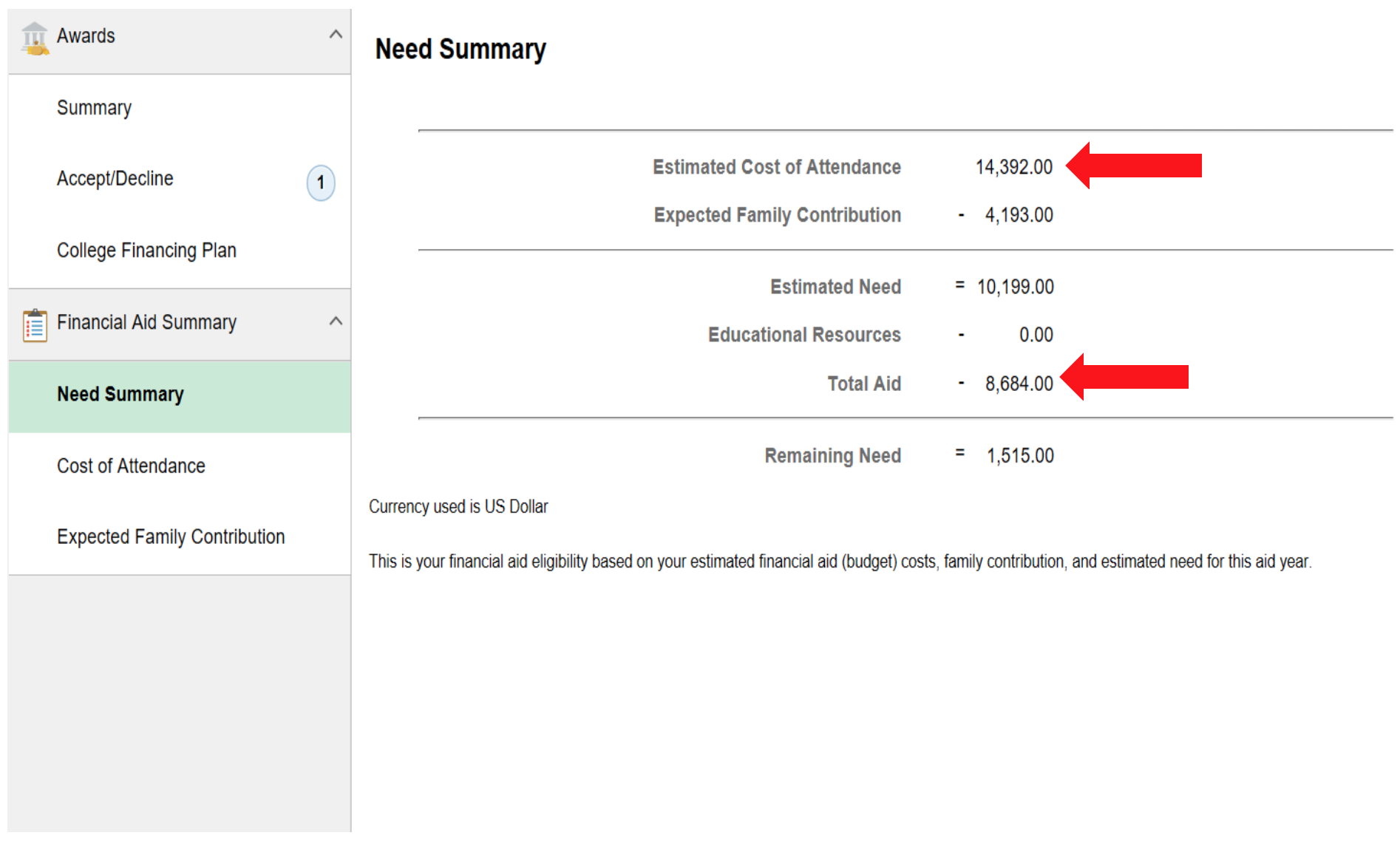 How do I apply?
NDSCS offers an online alternative student loan comparison tool for you to use called FASTChoice. FASTChoice is designed to assist you in making the alternative student loan choice that is best for you. FASTChoice is not a lender.
Please keep in mind that you may select any lender of your choice, even if they do not appear on FASTChoice.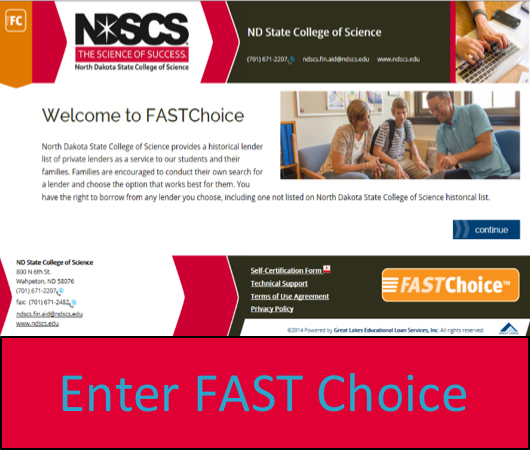 Parent PLUS Loan
The Federal Direct PLUS Loan is long term, fixed rate loan that parents can use to help pay educational expenses for their dependent undergraduate student.  Parents may borrow up to the cost of the student's attendance minus other financial aid.  Students must be enrolled at least half-time.  The Department of Education is the lender.  This loan does accrue interest beginning on the date of your loans first disbursement.  There is an origination fee.  More information regarding interest rates and origination fee.
To apply the Federal Direct PLUS Loan visit https://studentloans.gov/myDirectLoan/index.action#  Parent will be required to sign in using their FSA ID and password used when signing the FAFSA.