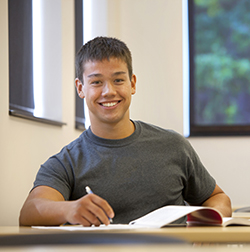 The Liberal Arts Criminal Justice Transfer program is for students who wish to complete an A.A. degree at NDSCS then transfer to a four-year college or university to complete a bachelor's degree in criminal justice. The Criminal Justice transfer curriculum plan at NDSCS includes core courses in English and humanities, math, physical sciences, social and behavioral sciences, and physical education.
Individuals interested in criminal justice have several career options available to them, including: police, detectives, county and state patrol officers, parole, probation and corrections officers. Many jobs are also available in the federal government such as: FBI, U.S. Marshal Service, ATF, Secret Service and DEA.
Upon completion, students will be awarded an Associate in Arts degree in Liberal Arts.
For more information
Contact a Fargo Admissions Representative at 701-231-6935.
First Semester
| Course # | Name (credits) |
| --- | --- |
| ENGL 110 | College Composition I (3) |
| CIS/CSCI 101 | Computer Literacy or Introduction to Computers (2 or 3) |
| BIOL 115 | Human Structure and Function (3) |
| BIOL 115L | Human Structure and Function Lab (1) |
| CJ 201 | Introduction to Criminal Justice (3) |
| FYE 101 | Science of Success (1) |
| Wellness Elective | (2) |
Second Semester
| Course # | Name (credits) |
| --- | --- |
| ENGL 120 | College Composition II (3) |
| MATH 210 | Elementary Statistics (3) |
| PSYC 111 | Introduction to Psychology (3) |
| CJ 232 | Administration of Justice (3) |
| SOC 110 | Introduction to Sociology |
| Elective | POLS/PSYC/SOC (2) |
Third Semester
| Course # | Name (credits) |
| --- | --- |
| HIST 101 or 103 | Western Civilization I or U.S. History to 1877 (3) |
| COMM 110 | Fundamentals of Public Speaking (3) |
| PHIL 210 | Ethics (3) |
| POLS 115 | American Government (3) |
| SOC 115 | Social Problems (3) |
Fourth Semester
| Course # | Name (credits) |
| --- | --- |
| HIST 102 or 104 | Western Civilization II or U.S. History Since 1877 (3) |
| POLS 116 | State and Local Government (3) |
| CJ 160 | The Legal System (4) |
| CJ 297 | CJ Internship (1-4) |
| Elective | MATH/SCI/CMPSCI (3-4) |
| Electives | Possibly 3 credits if only 1 credit of CJ 297 was taken (3) |