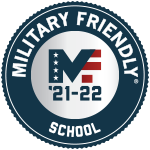 Thank you for your service to our country. We are proud that you're considering NDSCS and look forward to serving you in the future. Every service member has different needs and steps to take as a student. At NDSCS we're committed to assisting you!
NDSCS is proud to be recognized as a Military Friendly School® by Victory Media. We take this award seriously, and are here to help and support you with your educational goals.
Steps to Attend NDSCS
Apply for admissions to NDSCS
Determine your chapter of benefits
Apply for Benefits

Transfer Students need to complete a Change of Program/Place of Training Form

Chapters 30, 1606, 1607 and 33

Complete the application online using the VONAPP system.
*You will need to set up a username and password if you are a new user.
Attach and/or mail in any pertinent documents (ie. DD 214; NOBE, etc.)
Print or save a copy of the submission confirmation.
Once your application is processed and you are approved for benefits you will receive a "Certificate of Eligibility." Please bring a copy of this form to the VA Certifying Office in Haverty Hall, Room 101.