off
Construction Management Technology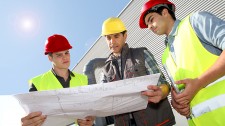 Students in the Construction Management Technology program study construction materials and methods, print reading, safety, scheduling, specifications and project management, as well as hands-on classes regarding construction methods, estimating, surveying, material testing and drafting.
Type: A.A.S. degree
Locations: Wahpeton
Cluster: Architecture and Construction
Green Technology Available
The Construction Management Technology program at NDSCS prepares students for a career in construction as a general contractor, construction manager, project manager, project engineer, job site superintendent, estimator, scheduler and many other managerial positions whose duties and responsibilities ensure that construction projects are completed on time, on budget and of the desired quality.
As a student, you'll learn about:
Construction materials and methods
Print reading
Construction Safety
Construction Scheduling
Construction Documents & Specifications
Job site responsibilities
Project Management
Hands-on classes cover:
Construction methods
Estimating
Surveying
Material testing
Revit Modeling
Unmanned Aerial Systems (UAS)