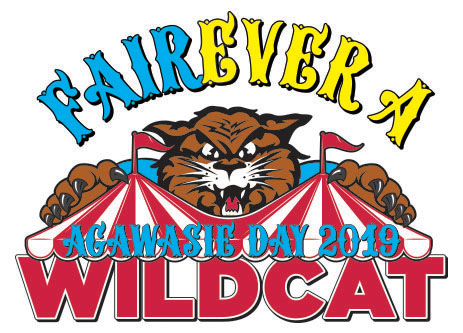 Thursday, May 2
1 p.m.-Midnight | The Oval & Lot 2
Competitions
Car Show | 1 - 3 p.m.
Click here to register online or call 701-671-2401.
FREE to all participants – students, faculty, staff and public
First 30 pre-registered entrants to receive a FREE commemorative dash plate on Agawasie Day (1 per person).
Three classes: Cars, Trucks and Motorcycles
Trophies for: Best in Class in each category and one overall Best in Show awarded.
Bean Bag Toss | 1 p.m.
Sponsored by NDSCS Collegiate DECA & Phi Theta Kappa. Sign up the day of Agawasie Day! Winners receive FREE Agawasie Day t-shirts!
Human Bubble Ball Races | 1 p.m.
Pick a partner and race through the human bubble ball course. You may enter as many times as you would like. Best time wins. Winners receive FREE Agawasie Day t-shirts! No pre-registration necessary.
Food
Snacks | 2-4 p.m.
Dippin' Dots
Kettle Corn
Cotton Candy
Mini Donuts
Picnic & Music | 5-8 p.m.
Hot Dogs & Hamburgers
Potato Salad
Chips
Watermelon
Water
Attractions
Inflatables | 1-6 p.m.
Gladiator Joust
22' Giant Inflatable Slide
Mechanical Bull
9-Square
Volleyball | 1-8 p.m.
Open Play
Music | All Day
Caricature Artist | 1-5 p.m.
Evening Entertainment
Xclusive | 8 p.m.
Entertaining comedian, musician and dancer.
Harry Stern and Ella Stern Cultural Center
Student ID required. No late entry will be permitted.
Outdoor DJ Dance Party featuring Scratch & Bang! Wear Neon | 9 p.m.-12 a.m.
Lot 2 (North of Old Main) If inclement weather, dance will be in the Alley. Must have Student ID. Guests must be accompanied by an NDSCS student. No bags or bottles. No re-entry. No exceptions. FREE water will be provided.
NDSCS-Fargo Activities
Join in the fun of Agawasie Day at NDSCS-Fargo. 
Thursday, May 2 from 12-3pm
Donuts
Grill Out 
Games
Prizes
History
Why is it called Agawasie Day?
In 1914, the School of Science published its first yearbook called the Agawasie.
According to the authors of NDSCS: 100 Years of Excellence, the origin of this name is obscure, but in an early issue of the annual it was explained as an Indian word for Ascience.
Another story tells that two wily students, Max Lauder and Arnold Forbes, had neglected to actually research the real Indian word for science. In order to cover up their blunder, they contrived the word Aggy-Wassy, which later became the easier form Agawasie.
After publishing the Agawasie for three years, it was discontinued from 1917 through 1920 due to World War I. In 1943 and 1944 the yearbook was reduced in size and printed as a softcover instead of the more usual hardcover edition.
Financing the annual varied from the sale of candy, proceeds from the Penny Carnival, student activity fees, the nominal sales price and solicited advertisements. The arrival of the annual became a day for celebration, so the annual Agawasie Day Picnic was started.
Publishing an annual yearbook was discontinued in 2004, but the day for celebration still continues as Agawasie Day.
*This information was compiled from the College Archives at the Mildred Johnson Library.