Agawasie 2020 is Cancelled - Virtual Events will be offered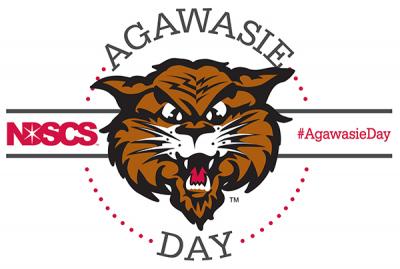 left-50
Virtual Car Show
The Agawasie Day Car Show is FREE to all participants - Students, Staff, Faculty & Public!
Four Divisions: Cars, Trucks, Motorcycles & Tractors
Plaques for Best in Each Division and Best in Show
Car Show voting will be held virtually April 29-May 4. A live Car Show discussion will be held Monday, May 4 at 7 p.m. Watch your NDSCS email for a link to join this event.
Winners will be announced on social media at 4:30 p.m. on Thursday, May 7th. 
Questions?
Call 701-671-2401 or email ndscs.studentlife@ndscs.edu
Car Show Winners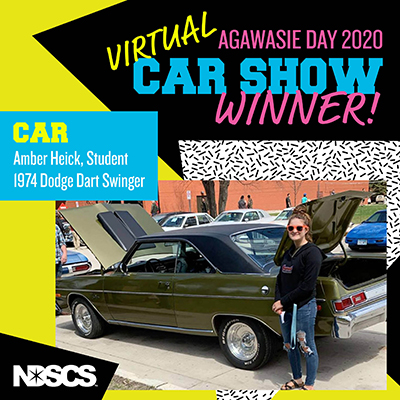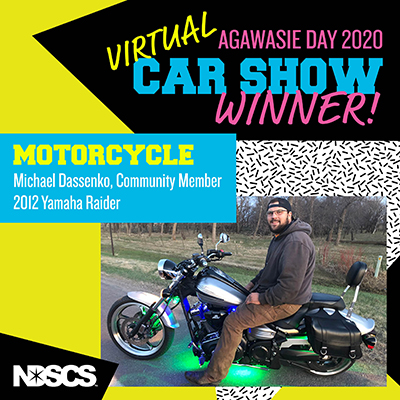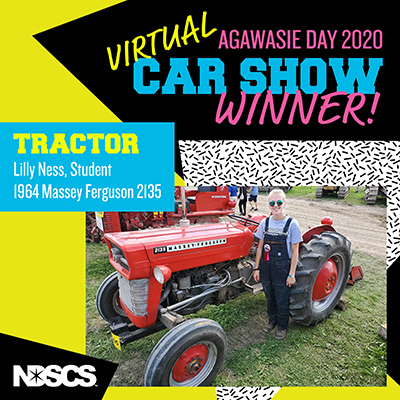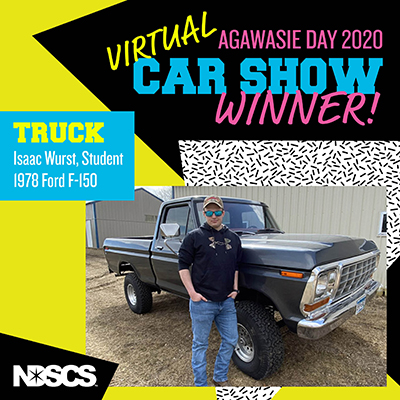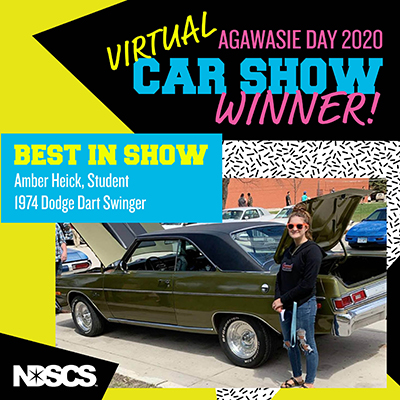 off
Car Entries
Amber Heick, Student
1974 Dodge Dart Swinger
Entry #101

Aaron Halsa, Student
1986 Ford Mustang
Entry #102
Galadriel Young, Student
1971 Chevy Impala
Entry #103
Dennis Kostuck, Student
1968 Chevrolet Corvette
Entry #104
Kim Dassenko, Employee
1964 Ford Falcon
Entry #105
Michael Dassenko, Community Member
1974 Volkswagen Super Beetle
​​​​​​​Entry #106
Kelsey Cook, Student
2015 Chevrolet Camaro
​​​​​​​Entry #107
Taylor Dinger, Student
2019 Tesla Model 3
​​​​​​​Entry #108
 
Tim Busta, Student
1970 Buick Skylark
​​​​​​​Entry #109
 
Motorcycle Entries
Jared Smith, Student
1974 Honda Cl360
Entry #201
Samantha Pauly, Employee
2009 Harley Davidson Heritage Softail
Entry #202
Matthew Dassenko, Community Member
2003 Honda VTX 1800
Entry #203
Grant Anderson, Student
2003 Yamaha V Star Classic
Entry #204
Michael Dassenko, Community Member
2012 Yamaha Raider
​​​​​​​Entry #205
Gabrielle Sharp, Student
1989 Yamaha FZR 1000
​​​​​​​Entry #206
 
Gabrielle Sharp, Student
1985 Yamaha Virago xv1000 Gold Edition
​​​​​​​Entry #207
 
Tractor Entries
Clayton Mattern, Student
1995 John Deere 4450
Entry #301
Grant Anderson, Student
1962 Allis Chalmers D17
Entry #302
 
Lilly Ness, Student
1964 Massey Ferguson 2135
Entry #303
 
Truck Entries
Caleb Blazek, Student
1989 International Bus
Entry #401
Jacob Strobel, Student
1986 Chevy C10
Entry #402
Casey Buskohl, Student
2004 Chevy 2500 HD Duramax
Entry #403
Gabrielle Sharp, Student
1972 GMC Sprint SP
Entry #404
Isaac Wurst, Student
1978 Ford F-150
​​​​​​​Entry #405
Nick Bronson, Student
1986 Chevy K10
​​​​​​​Entry #406
Lilly Ness, Student
1977 Chevrolet Camper Special
​​​​​​​Entry #407
Clint Gilbertson, Employee
1949 Dodge Pilot B-108 Pickup
​​​​​​​Entry #408
More Agawasie Fun
off
More Agawasie Fun
FREE Virtual Caricatures
FREE Virtual Caricatures
Thursday, May 7 | 1-5 p.m.
Search 'Caricature' in your NDSCS email for details on how to participate.
History
Why is it called Agawasie Day?
In 1914, the School of Science published its first yearbook called the Agawasie.
According to the authors of NDSCS: 100 Years of Excellence, the origin of this name is obscure, but in an early issue of the annual it was explained as an Indian word for Ascience.
Another story tells that two wily students, Max Lauder and Arnold Forbes, had neglected to actually research the real Indian word for science. In order to cover up their blunder, they contrived the word Aggy-Wassy, which later became the easier form Agawasie.
After publishing the Agawasie for three years, it was discontinued from 1917 through 1920 due to World War I. In 1943 and 1944 the yearbook was reduced in size and printed as a softcover instead of the more usual hardcover edition.
Financing the annual varied from the sale of candy, proceeds from the Penny Carnival, student activity fees, the nominal sales price and solicited advertisements. The arrival of the annual became a day for celebration, so the annual Agawasie Day Picnic was started.
Publishing an annual yearbook was discontinued in 2004, but the day for celebration still continues as Agawasie Day.
*This information was compiled from the College Archives at the Mildred Johnson Library.