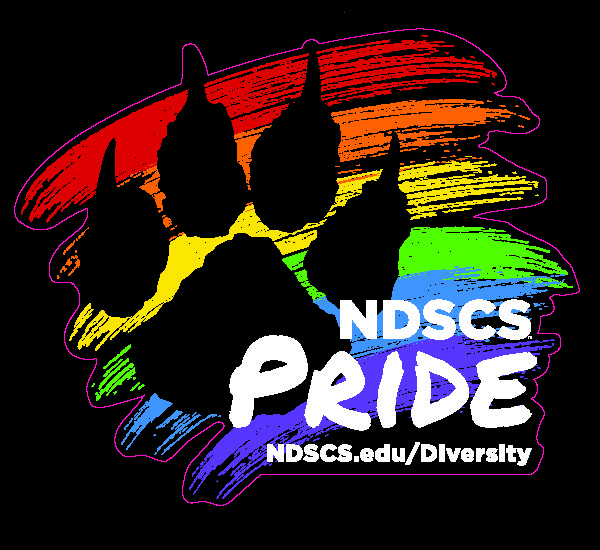 right-50
Nondiscrimination Statement
NDSCS has a commitment to serve all students, including those from diverse backgrounds.
NDSCS has a responsibility to produce an inclusive learning environment, free from harassment where all learners can succeed.
What it means to be LGBTQ+
L – Lesbian: Female identifying person who is attracted to women
G – Gay: Male-identifying person who is attracted to men
B – Bisexual: A person who is attracted to both men and women
T – Transgender: A person whose sense of identity and gender does not match their sex assigned at birth
Q – Queer: Relates to sexual and gender identity but does not correspond within a singular title
+ – Plus: Including anyone who isn't questioning their sexuality or gender identity, but does not fall under these categories (pansexual, asexual, intersex, nonbinary)
off
Resources at NDSCS
Student Wellness and Advocacy
Student Advocate

Acts as a resource for high-risk students and students in need of academic and non-academic support services. Supports students through collaboratively providing education; programming related to equity, and diversity; as well as addressing underrepresented student concerns and sexual discrimination/misconduct.
Fulfill duties as a permanent chair to the institution's Diversity, Equity, and Inclusion organization, leading the team through effective collaboration and implementation of inclusive policies for the College.
If you have a question or concern, are not sure who to go to, or just need help figuring out where to go next, please call 701-671-2541, or email NDSCS.StudentAdvocate@ndscs.edu.
The Student Advocate is available to meet face-to-face, by phone or via Zoom; you can schedule to meet with them by contacting them directly, or by scheduling online. Their phone number is 701-671-2541

Personal Counselor

Counseling is a process by which you and your counselor work together to better understand your thoughts, feelings and options. Even though you may believe that your problems are "not bad enough" or you may know someone else who has it worse, don't wait to seek help while the problem gets bigger. Seeking help early during a stressful time is important. Services provided are FREE and CONFIDENTIAL.

Substance Use Prevention

College allows students to have new experiences, make connections, and forge different paths. Our office can assist students with making healthy decisions regarding substance use. Services are FREE and CONFIDENTIAL.
You can contact Bethany Mauch, the Wellness Coordinator, at 701-671-2124 or by emailing Bethany.Mauch@ndscs.edu
You can schedule an appointment to meet with them online

Student Health Services

Student Health Services is committed to the promotion of holistic health through education, prevention and treatment. All services provided by a Registered Nurse and are FREE and CONFIDENTIAL.

Student Accessibility

Accessibility Services provides equal access and opportunity to all academic programs and campus activities for students with disabilities.
You can contact Mindi Bessler, the Accessibility Coordinator, at 701-671-2623 or by emailing Mindy.Bessler@ndscs.edu
You can schedule an appointment to meet with them online
LGBTQ+ Dorm Housing Assistance
The Residential Life Department is committed to providing safe, inclusive and vibrant living environments for all students who live on campus. As part of this commitment, Residential Life and the Student Advocate work collaboratively to find the best suitable living arrangement available for LGBTQIA students based on their needs. NDSCS has a variety of living options, such as private rooms with private bathroom, single rooms and mixed gender halls and floors. Click here for information on the room rates for each room type.
Residential Life responds to prospective and current student housing needs on a case-by-case basis. Given the importance Residential Life places on creating inclusive living spaces for all residents, in many cases we are able to work to identify spaces that meet the needs of our students. As with any student who applies for on-campus housing, we cannot guarantee that all preferences will be met. Please keep in mind, the earlier the Student Advocate can consider any questions or issues that you raise, the more flexibility Residential Life will have in assisting you with exploring different housing options. We encourage you to begin the discussion when you submit your housing and dining application.
You know best what you need or desire in a campus living environment. We are happy to help you explore those needs within the housing options we have to offer.
If you are interested in speaking about housing options, please contact the Student Advocate by calling 701.671.2541, or sending an email to NDSCS.StudentAdvocate@ndscs.edu.
Safe Zone
Level 1 – Advocating for LGBTQ+ Students

The goal of this introductory training session is to provide basic information about sexual orientation, especially as it relates to NDSCS students, faculty, and staff. Topics addressed include an overview of the Lesbian, Gay, Bisexual, Transgender, Queer, plus (LGBTQ+) community, relevant topics, and terminology. Participants in this training session will be given explicit steps on what they can do to help advocate and support members of the LGBTQ+ community, both in generalized methods and through accessing resources specific to NDSCS.

Level 2 – Understanding Gender Identity

This training session is designed as a continuation of Level 1; it builds on the previous information but focuses on identity as it relates to gender. Gender identity can encompass many different internal and external elements: sex assigned at birth, gender expression, and gender attribution. Participants in this training session will engage in discussions around the use of gendered language, making conscious efforts to use inclusive language, relevant terminology, and the explicit steps they can do to help advocate for students, staff, and faculty at NDSCS.

Ally/Advocate

Ally - a passive role, you support the person/group but do not do anything that is actionable (being aware of bias)
Advocate - an active role, you support the person/group AND make your support public (confronting bias)

Resources
Be an Upstander
Upstander Training aims to empower NDSCS employees and students to speak up when witnessing oppressive behaviors. This training provides the resources and tools needed to address difficult situations with students, colleagues, and classmates along with an explanation of reporting options for these incidents.
NDSCS Strong – Suicide Awareness
Diversity, Equity & Inclusion Team
Diversity, Equity & Inclusion Team
Co-chairs:
Taylor Thompson
Park Masterson
Members:
Mindi Bessler
Paula Comeau
Barry Frank
Kaila Givens
Amanda Hayes
Jim Johnson
Jennifer Krueger
Ronda Marman
Park Masterson
Jane Passa
Bryan Poyzer
Sybil Priebe
Leah Schauer
Bethany Mauch
Rae Essig
Administrative Liaisons:
Sandi Gilbertson
Melissa Johnson
Community Resources
NDSCS Free and Confidential Services
Wahpeton Resources
Fargo Resources
Crisis Lines