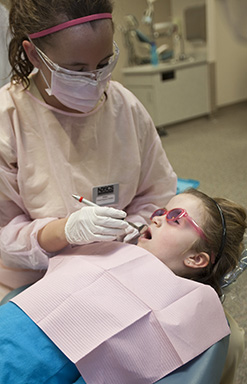 The NDSCS Allied Dental Clinic is accepting new patients! We welcome children and adult patients including students, staff and faculty of the College and the general public. All patients under the age of 18 must be accompanied by a parent or guardian. All services are provided by students and are supervised by dental hygiene faculty members and a supervising dentist.
Services Provided
Assessments of Blood Pressure, Pulse, Respirations and Temperature
Dental Cleaning, Scaling and Root Planing
Dental Radiographs/X-Rays
Fluoride Treatments
Dental Sealants
Intra-Extra Oral (soft tissue) Exams
Oral Hygiene Instructions
Periodontal Assessments
Professional Whitening Strips for Purchase
Payment Methods
Cash
VISA
Mastercard
Discover Card
ND Medical Assistance
Hours 
We offer morning and afternoon appointments Monday-Wednesday (fall semester) and Monday-Thursday (spring semester). 
Make a reservation for your appointment today!
701-671-2333 | ndscs.dental@ndscs.edu