Get on-the-job training in residential and commercial construction in the NDSCS Building Construction Technology program.

Are you a student who is interested in the Building Construction Technology program at NDSCS? Find out how to visit NDSCS at NDSCS.edu/Visit or register to attend a SEE NDSCS Day. 
Are you a school counselor or instructor interested in bringing a group of students to NDSCS to learn more about Building Construction Technology? Find out more about our Program Visit Days. 
Academic Options
off
Building Construction Technology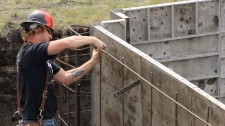 The Building Construction Technology program prepares students with skills to work in many areas of the construction industries. The program is a unique blend of education and hands-on training that will allow graduates to work for builders, general contractors and subcontractors.
Type: A.A.S. degree
Locations: Wahpeton
Cluster: Architecture and Construction
Green Technology Available

» View Program Information & Admission Requirements
In the NDSCS Building Construction Technology program, students receive the experience and training to prepare for a career in the construction industry. Students learn leadership and technical skills through hands-on real-world projects and classroom instruction.
Topics covered include concrete, construction equipment, rough carpentry, steel erection, exterior finishes, and interior finishes.  In just two years, students develop all the skills they need to work on a construction site – or advance to supervisory positions within the industry. Build your future with NDSCS!

Tool Lists - Required tool list is available at NDSCSBookstore.com under the 'Tools' menu. The tool list is updated each March for the following school year in collaboration with your instructors.