off
Occupational Therapy Assistant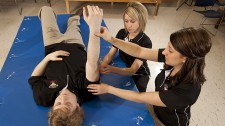 Occupational therapy assistants work with clients ranging from newborn to geriatric a variety of settings including school systems, hospitals, mental health clinics. The OTA program consists of three semesters of academic preparation and one semester of full-time fieldwork education.
Type: A.A.S. degree
Locations: Wahpeton
Cluster: Health Science
» View Program Information & Admission Requirements
​Occupational therapy assistants (OTA) work with people to improve the quality of their lives through the therapeutic use of everyday activities. 
As an OTA, you work with a broad range of individuals including: 
Children with disabilities 
Aging adults experiencing physical and cognitive changes 
People recovering from injury 
Graduates of the NDSCS Occupational Therapy Assistant program find employment at: 
Schools
Hospitals 
Home healthcare services 
Rehabilitation centers 
Retirement facilities 
Accreditation
The North Dakota State College of Science's Occupational Therapy Assistant Program has been fully accredited by the Accreditation Council for Occupational Therapy Education of the American Occupational Therapy Association since 1972.
The Occupational Therapy Assistant Program is accredited by the Accreditation Council for Occupational Therapy Education (ACOTE) of the American Occupational Therapy Association (AOTA), located at 6116 Executive Boulevard, Suite 200, North Bethesda, MD 20852-4929. ACOTE's telephone number, C/O AOTA, is (301) 652-AOTA and its web address is www.acoteonline.org.
Certification Exam
Graduates will be eligible to sit for the National Certification Examination for the Occupational Therapy Assistant administered by the National Board of Certification of Occupational Therapy (NBCOT). When application is made, the candidate will be required to disclose any previous felony conviction, which may affect the graduate's eligibility to sit for the exam. For more information go to www.nbcot.org.
NDSCS OTA Program Data
Graduation Year
Students Entering/Graduating
Graduation Rate
2020
21/12
57%
2021
11/9
81%
2022
12/10
83%
Total
44/31
70%
Program results from the National Board for Certification in Occupational Therapy (NBCOT) can be found online at https://www.nbcot.org/EN/EDUCATORS/HOME#SCHOOLPERFORMANCE.
Cost Information
Click here for the Estimated Educational Cost for Occupational Therapy Assistant program at NDSCS. For other tuition and fee information specific to NDSCS go to NDSCS.edu/Costs.