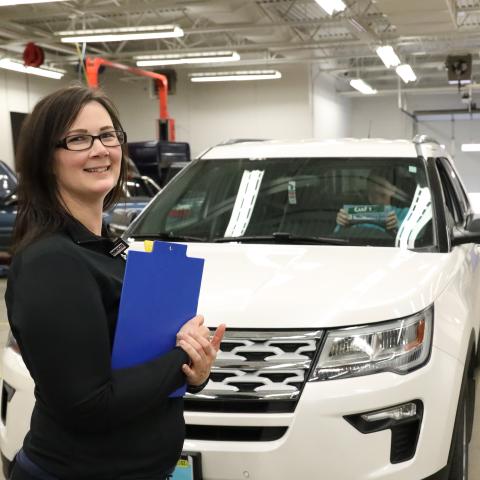 11-08-2023
The North Dakota State College of Science Occupational Therapy Assistant Program hosted a CarFit event on the NDSCS Campus in Wahpeton, ND, on Wednesday, November 8th, 2023 from 1-3 p.m.
CarFit is a national program developed by AAA, AARP and the American Occupational Therapy Association, and is designed to give a quick, yet comprehensive check on how well an older driver and their vehicle work together. At a CarFit event, trained volunteers complete a 12-point checklist with each driver. Among the items checked are: correct position of the driver's seat, driver's ability to easily reach pedals, and proper adjustment of mirrors.
As part of their coursework, NDSCS OTA students are trained in the CarFit program by a Certified CarFit Technician. At this year's event, second-year OTA students worked with participants to ensure they "fit" their vehicle properly for maximum comfort and safety. A CarFit check takes approximately 20 minutes to complete and is completely free.