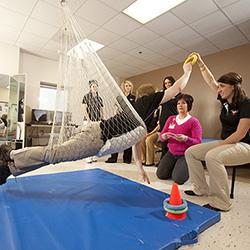 04-26-2018
April is Occupational Therapy Month, recognizing those who work in the industry that helps people perform everyday activities through therapeutic techniques. The NDSCS Occupational Therapy Assistant (OTA) program is celebrating Occupational Therapy Month by bringing awareness to the occupation.
Occupational Therapy Assistants provide treatment under a physician's order and are supervised by an Occupational Therapist. Occupational therapy might be required for a variety of reasons, including a traumatic accident, mental health issues, a stroke or a lifelong condition such as cerebral palsy. Occupational Therapy Assistants help patients live as independently as possible by teaching them ways to perform daily tasks and routines.
The NDSCS Occupational Therapy Assistant program offers a two-year Associate in Applied Science degree. Students complete three semesters of academic coursework and one semester of full-time clinical experience in various facilities. The program has been fully accredited by the Accreditation Council for Occupational Therapy Education of the American Occupational Therapy Association since 1972. Occupational Therapy Assistant students participate in a number of activities that provide hands-on experience during their time at NDSCS, including teaching handwriting to elementary school students and working with residents in nursing homes. Students also recently hosted a CarFit event, where they completed a 12-point checklist to ensure that individuals fit their vehicle properly for maximum comfort and safety.
According to the June 2017 U.S. News and World Report, OTAs rank number one of the 19 Best Jobs for Community College Graduates. The demand for Occupational Therapy services is great as baby boomers are aging, medical advances are prolonging life and health reform is driving more patients into the helping arms of OTAs. The Bureau of Labor Statistics (BLS) projects that the profession will grow by 29 percent by 2026, which is much faster than the average for all occupations. 
Individuals interested in the NDSCS Occupational Therapy Assistant program can learn more online at ndscs.edu/ota. The program is still accepting applications for the Fall 2018 semester. To learn more about Occupational Therapy, visit aota.org or join in the conversation on social media by using #OccupationalTherapyMonth.