off
Heating, Ventilating, Air Conditioning and Refrigeration Technology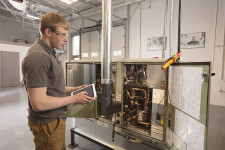 The Heating, Ventilation, Air Conditioning, and Refrigeration (HVAC/R) Technology program provides a balance of theory and application, including principles of heating, ventilation, air conditioning, and refrigeration combined with extensive laboratory experience.
Type: Certificate, A.A.S. degree
Locations: Wahpeton
Cluster: Architecture and Construction
Green Technology Available

» View Program Information & Admission Requirements
​HVAC/R technicians are in high demand around the country, and that demand is expected to stay strong. Earn your certificate or associate's degree in our hands-on program and jump into a rewarding career. You'll be ready to do anything from repairing heating units and maintaining supermarket refrigeration systems to troubleshooting electrical problems and planning indoor air quality systems for hospitals. Plus you'll earn a great salary while you're at it.
Get on the path to a hot career with our HVAC/R Technology program.
NDSCS HVAC/R Technology Brochure
Career Potential
Since 2011, 100% of our graduates went on to start a career or continue their education.
Types of Jobs
Commercial installation and service
Industrial installation and service
Residential installation and service
Sales
Design
Maintenance
Self-employment
What You'll Learn
Electrical – control circuits, schematic diagrams, problem solving with electrical test equipment
Piping
Sheet metal fabrication
Oil, gas and electrical heating system design, installation and service
Air conditioning and refrigeration design, installation and service
Heat pump system design, installation and service
Building control system design, installation and service
Hydronics
Geothermal water source heat pump
Additional Certifications Available
Occupational Safety & Health Administration (OSHA) 10-Hour Safety Training Certificate
Environmental Protection Agency (EPA) Refrigerant Handling Certification
Industry Competency Exam (ICE) Certificate