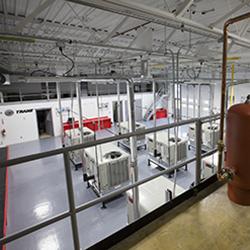 10-10-2017
North Dakota State College of Science opened a state-of-the-art instructional facility for its Heating, Ventilating, Air Conditioning and Refrigeration Technology program today. The world-class lab and classroom were made possible through a combination of public and private funds and donations. Students in the HVAC/R Technology program can now train on the latest technology used by industry, enabling them to gain the skills needed for technically advanced careers.
Public funds from a $400,000 North Dakota Department of Commerce workforce enhancement grant were matched by more than $432,000 in private donations from Trane®, a leading global provider of indoor comfort solutions and services. In addition to donated equipment, Trane representatives oversaw the complete installation of the systems to ensure they are fully operational.
The NDSCS HVAC/R instructional areas now boast eight rooftop units, a water source heat pump, an air handler, ten variable air volume boxes, Air-FiTM wireless controls and Tracer® SC system controllers. Students are immersed in the curriculum that features this state-of-the-art equipment, and the theory behind how the mechanical systems work together to make buildings as efficient as possible.
"HVAC is a high demand career in North Dakota," said NDSCS President John Richman. "This public-private collaboration helps to solve the state's need for HVAC technicians. This is a model that needs to be replicated, as everyone wins in the end."
Through a partnership with the National Coalition of Certification Centers (NC3), NDSCS offers its HVAC/R students five certifications to demonstrate that they have been educated to industry standards. NDSCS instructors worked with Trane and NC3 to develop curriculum. Jeff Kukert developed a curriculum for variable speed motors and Mark Wood developed a heat pump curriculum. They are both NC3 Certified Master Instructors and are certified to deliver BAS Level I, residential airflow, residential refrigeration diagnostics, variable speed motors and heat pump curriculum to students.
Graduates from the NDSCS HVAC/R Technology program in 2016 had a 100% placement rate. Individuals interested in the program can learn more online at ndscs.edu/hvacr, or by attending the College's Electrical, HVAC/R, Manufacturing Day on Monday, November 6. More information and registration for this event can be found online at ndscs.edu/specialevent.