A learning journey is a strategic approach to developing leaders over time through designed learning experiences, for any stage of learner, that involves a series of different learning elements and experiences.
Whether you are or yearn to be, a supervisor, manager, group leader, or an emerging leader in your organization – we can help you on your path to success!
The foundation of our Leadership Learning Journey program is based on Ken Blanchard Companies programs in addition to other skills, such as professionalism, communication, collaboration, and accountability, that are needed to lead people effectively.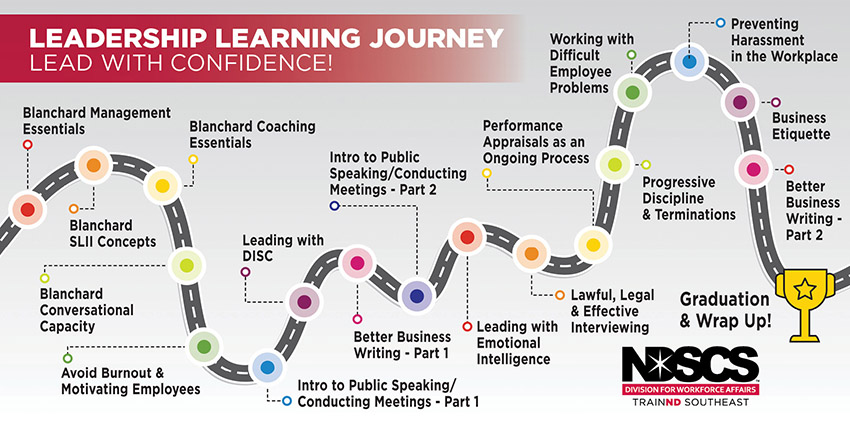 full
PROGRAM DETAILS
17 classes = 60 hours
Program fee: $2499* (materials included)
Program timeline: Program starts September 12, 2023 with monthly classes running through December 13, 2023.  

*Total cost to take each individual course separately: $3829
off
Class Schedule and Course Descriptions
Trainer Biographies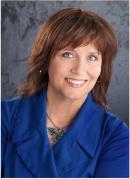 Laura Lobo
Laura Lobo (Moorhead, MN) is a dedicated professional who creates engaging learning experiences for people, fostering lasting growth and meaningful connections. As the owner of Voice Pizazz LLC since 2007, Laura has helped individuals from multiple backgrounds and age groups to amplify their messages and bring them to life.
With a wealth of business expertise spanning various industries, Laura has garnered a reputation for her exceptional customer service skills and sales acumen. Her contributions have been recognized throughout her career with various awards and honors.
In addition to her role at Voice Pizazz LLC, Laura currently serves as an instructor with TrainND, where she develops tailored professionalism, leadership and upskilling courses for numerous members of the workforce. Furthermore, she's a facilitator for The Leaders Institute, providing charitable team building events nationwide for organizations such as Coca-Cola, LinkedIn, Google, Amazon, JP Morgan Chase, and others, leaving a positive and memorable impact across the country.
Laura's volunteer involvement includes Rotary International, IVTOM (International Voice Teachers of Mix), and Lakes Area Vineyard Church, where Laura Lobo she contributes and stays connected with like-minded professionals. Broadening her own horizons and embracing other cultures has been important to Laura, and she has travelled across the United States and to more than 15 foreign countries.
Witnessing the transformation of those around her, as they gain confidence and expand their influence in their professional lives, brings her tremendous satisfaction. Laura firmly believes that improved communication is a catalyst for personal growth, impacting every facet of our lives and enabling each of us to develop into the best versions of ourselves.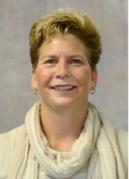 Kathy Marquette
Kathy Marquette is an associate professor in the Business Management Department at NDSCS in Wahpeton. She received her B.S. in Education with an English minor at Valley City State University and her M.A. in Speech Communication from NDSU. She has taught 24 years at NDSCS and prior to her tenure there she taught at Lisbon High School.
Kathy teaches classes in human resource management, accounting, business in the legal environment, marketing information analysis, and career seminar throughout her academic year. She has also been a trainer for NDSCS TrainND Southeast in a variety of capacities over the years.
Kathy and her husband, Kyle, reside in rural Rutland where they farm, and Kyle is a partner in Marquette Construction.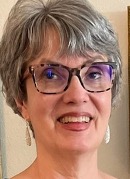 Denise Pinkney
Denise Pinkney grew up on a farm in North Dakota. Pinkney graduated from Minnesota State University Moorhead with a bachelor's degree in English and Mass Communications. She later earned a master's degree in Strategic Leadership from the University of Mary, Bismarck, N.D.
She is an award-winning writer and communicator, who has worked within the sectors of agriculture, health insurance and education. Pinkney resides in Fargo with her husband.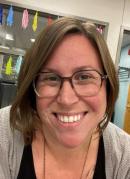 Amber Denault
Amber is the Program Strategist for NDSCS TrainND Southeast. She graduated with a B.S. in Elementary Inclusive Education from Minnesota State University Moorhead and her M.Ed. with a Concentration in Technology Education from Valley City State University.
She has taught 8 years in Fargo Public Schools grades K-8. Amber also has a background in accounting, building maintenance, retail, and customer service.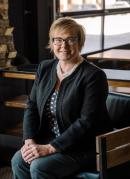 Nicole Bakkegard
Principal & Owner of Bakkegard Consulting, LLC
Nicole's work experience includes large and small employers, and she has a very diverse HR background. Prior industry experience includes banking, insurance, general labor, and extensive experience with labor unions and employee relations. Additionally, she has developed, upgraded, and managed all areas of human resources which include recruiting, onboarding, performance management, policy development, workplace investigations, manager training & development, benefits, compensation, job descriptions, & much more.
In 2006 she received her Master of Business Administration (MBA) from North Dakota State University in Fargo, ND, and has been a certified Professional in Human Resources (PHR), a certification offered by the Society of Human Resource Management, since 2001. Nicole combines her business education and her many years in human resources into a unique, hands-on, real-world model. Her goal is to find the right solution for your company.
Nicole and her husband have two sons, a daughter-in-law and live in Fargo. You will find her at yoga, Pure Barre, drinking decaf coffee or browsing a local thrift store in her spare time.