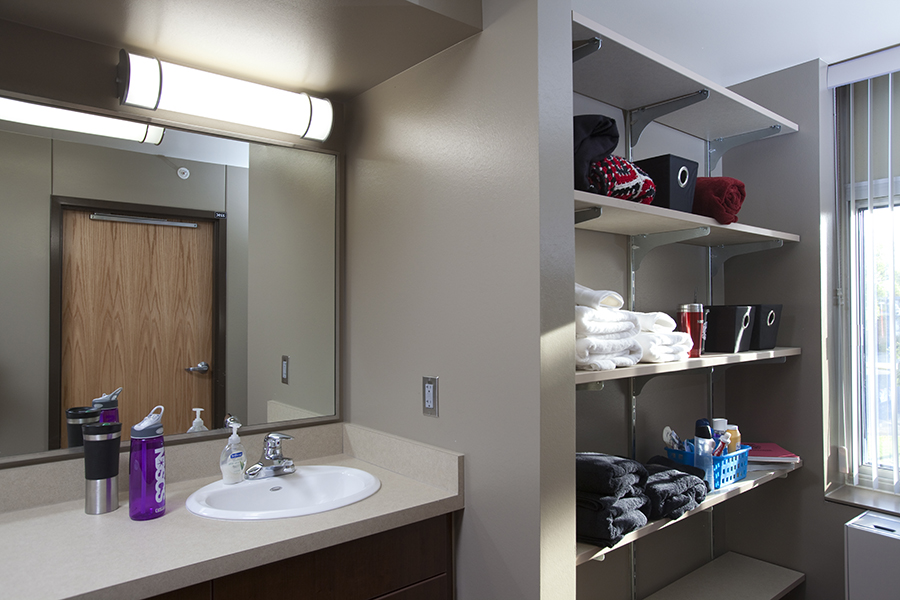 right-50
Desk
Desk chair
Bed
Extra-long twin mattress (36" x 80") in all halls besides the first and second floors of Walton and Schulz halls, which have regular twin mattresses (36" x 75")
Closet
Wastebasket
Window coverings
Shower curtains
Toilet paper
---
You Can Bring
The Basics
Backpack
Notebooks, binders, folders
Hat, gloves, scarf, coat, umbrella
Microwave-safe dishes and mugs [1]
Silverware
Plastic food containers
Can opener
Reusable water bottle
First Aid kit
Small nails (1 1/2" long or smaller) or adhesive putty (Forkner, Riley, Walton, Schulz Halls) to hang photos, calendars, etc.
Command strips or adhesive putty (Nordgaard, Robertson Halls) to hang photos, calendars, etc.
Bed & Bath
Bedspread, bed sheets, blanket - extra-long twin (80" long) linens are recommended
Pillow, pillow cases, mattress topper
Toiletries - shampoo, toothbrush, toothpaste, shaving cream, soap, et.
Towels and washcloths
Shower shoes
Shower caddy
Electronics & Housewares
Alarm clock
Phone charger
Microwave [1] - 800 watts or less
Computer
Small desk lamp - UL approved
Fan - UL approved
Power strips - UL approved
TV [1]
Refrigerator - 4 cubic feet or less [1]
HDMI cord (6-10 feet)
Area rug [1] - see room dimensions to determine appropriate rug size
Laundry & Cleaning Supplies
All halls have unlimited use high-efficiency laundry machines - you need to bring HE detergent
Laundry bag or basket
Dishwashing soap
Anti-bacterial wipes
Paper towels
[1] These items are easy to split with your roommate. Talk to your roommate prior to coming to campus to save money and avoid over packing!
---
Leave At Home
Open element appliances such as:

Electric frying pans
Electric grills and fryers (George Foreman grills, deep fat fryers, etc)
Air fryer ovens
Hot plates
Pizza ovens
Coffee pots
Space heaters
Rice cookers
Toasters

Instapots
Air conditioners
Candles
Wax melts and wax warmers
Incense burners
Misting diffusers
Spray deodorant and spray air fresheners, as these items can set off fire alarms
Cordless curling irons
Heating blankets
Lava lamps, halogen lamps, sun lamps, and neon signs
E-cigarettes or any type of electronic smoking devices
Dart games, bows and arrows, or any other devices which endanger human life
Weapons/Firearms/Explosives, including but not limited to: airsoft guns, BB guns, dart guns, handguns, paint ball guns, pellet guns, rifles, shotguns, stun guns or similar device designed to deliver an electric shock, daggers, knives, sabers, swords, bows and arrows, firecrackers or other explosives [2]
Outside antennas
Extension cords
Homemade lofts or other lofts NOT issued by NDSCS. NDSCS has loft kits available for a $75 rental fee for the academic year. Information on how to apply for a loft kit is provided via email when room assignments are available. 
Your own mattress or bed frame
Rope/string lights with self-adhesive as these damage any surface they are adhered to (minimum $75 fine)
The only cooking equipment permitted in student residence hall rooms are single serve coffee makers that do not have hot plates and are equipped with automatic shut-off, microwave ovens under 800 watts, basket air fryers, crock pots, and refrigerators not exceeding 4 cu. ft. inside storage space. Community kitchens provide a stove, microwave and a toaster for student use.
[2] All firearms must be registered with NDSCS Police immediately upon arrival to NDSCS. NDSCS Police provides storage for students to store sporting arms, such as those used for hunting and other shooting sports. An officer must be present for check-in/check-out.