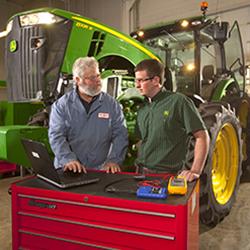 03-09-2017
The North Dakota State College of Science John Deere Tech program has received The College of Tomorrow award from the John Deere Company and a Platinum ranking for the third consecutive year.
The award serves as a ranking system for the 16 colleges in the United States that offer a John Deere Tech program. The four levels are Platinum, Gold, Silver and Bronze. Among other criteria, rankings are based upon a college's program image and professionalism, students, instructor development, facility, safety and most importantly, student learning.
"We are truly honored to receive this Platinum designation," said Larry Ascheman, NDSCS associate professor and John Deere Tech program coordinator.  "It's important for students who are considering college options to understand the significance that this premiere John Deere Tech program is offered right here in North Dakota."

The NDSCS John Deere Tech program is designed to develop technically competent, professional ag equipment service technicians. The John Deere Company sponsors the program and NDSCS administers and operates the program. This unique and innovative program combines state-of-the-art, on-campus learning experiences with supervised occupational experiences at sponsoring John Deere dealerships. Students receive technical training on John Deere equipment and related products through a combination of classroom instruction and hands-on laboratory experiences. Classroom and laboratory instruction at NDSCS covers the basics of each subject plus the latest developments in John Deere's agricultural equipment. Work experience at the dealership reinforces on-campus training and exposes the student to real life failures and repairs as they occur on the equipment.
The John Deere Tech program is taught in Bisek Hall, a state-of-the-art diesel training facility which spans 125,000 sq.ft., and is located in Wahpeton, N.D. Graduates of the program earn an Associate in Applied Science degree (A.A.S.).
Prospective students can learn more by visiting www.ndscs.edu/johndeere or by contacting the John Deere Tech department (701-671-2213), Diesel Technology department (701-671-2330) or Enrollment Services in Wahpeton (1-800-342-4325).