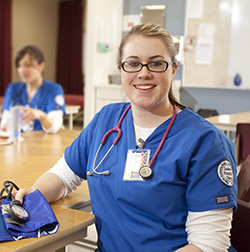 Practical nurses are in high demand and have excellent job opportunities. Earn your nursing degree from a college that has built a reputation for quality nursing education. The Practical Nursing program at NDSCS-Fargo is designed to give you the flexibility needed to fit your busy life.
Evening classes
4 days per week
Lecture, lab and clinic formats
---
New Information Regarding Practical Nursing Program
The current Practical Nursing program is in a two and a half to three-year cycle which will be completed Fall 2019.
Click here for additional information about the NDSCS Nursing programs, including fact sheets, the selection process and checklists, FAQs, resume and essential functions.
---
For program details contact:
Sonja Fenske, Administrative Assistant 
Allied Health Careers
701-671-2967
sonja.fenske@ndscs.edu
The NDSCS Practical Nursing Program is Accredited by the Accreditation Commission for Education in Nursing (ACEN) 3343 Peachtree Road NE, Suite 850, Atlanta, GA 30326, 404-975-5000 and has full approval from the North Dakota Board of Nursing (NDBON), 919 South 7th Street, Suite 504, Bismarck, ND 58504, 701-328-9777.