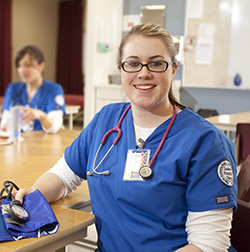 Practical nurses are in high demand and have excellent job opportunities. Earn your nursing degree from a college that has built a reputation for quality nursing education. The Practical Nursing program at NDSCS-Fargo is designed to give you the flexibility needed to fit your busy life.
Flexible class offerings
4 days per week
Lecture, lab and clinic formats
---
Now Accepting Practical Nursing Students for Fall 2020
NDSCS-Fargo will begin a new cohort of the Practical Nursing program in Fall 2020. The program is expected to take two and a half-years to complete.
Click here for additional information about the NDSCS Nursing programs, including fact sheets, the selection process and checklists, FAQs, resume and essential functions.
---
For program details contact:
Sonja Fenske, Administrative Assistant 
Allied Health Careers
701-671-2967
sonja.fenske@ndscs.edu
The NDSCS Practical Nursing Program is Accredited by the Accreditation Commission for Education in Nursing (ACEN) 3343 Peachtree Road NE, Suite 850, Atlanta, GA 30326, 404-975-5000 and has full approval from the North Dakota Board of Nursing (NDBON), 919 South 7th Street, Suite 504, Bismarck, ND 58504, 701-328-9777.