full
Your next step is to complete a Family Educational Rights and Privacy Act (FERPA) release form. FERPA affords students the right to privacy and the right to view and amend their educational records. At NDSCS, FERPA applies the moment you are admitted, regardless of age or program. By completing a FERPA release, we can disclose financial and certain academic information to individuals you have designated. Any questions regarding FERPA can be referred to the Registrar's Office.
To complete the FERPA form, you must first claim your Campus Connection account by following the directions below:
off
Claim your University System / CampusConnection Account
1. Go to https://claim.ndus.edu
2. Click Claim my Account
3. Click "Claim your NDUS Account" (under the Chancellor's Greeting)
4. Enter your seven-digit Student ID number (also called your EMPLID) and your date of birth
5. Click Continue
• The screen will display your University System username. You should use this when you log in to CampusConnection, NDSCS Online and other University System services.
6. Check the box to agree to NDUS policies and then select Continue
7. Enter and confirm a new password
8. Click Change Password
9. Enter an alternative email address for recovery
10. Click Save
After claiming your Campus Connection account, you will log in and complete the FERPA release form using the following steps:
1. Log in to your Campus Connection account (www.ndscs.edu and click on Campus Connection tab)
2. Click on the NDSCS eForms tile
3. On the left-hand side, select Enrollment Services
4. Then select FERPA Release
5. Complete the form and click submit
Access Your NDSCS Email - Required for College Communication
NDSCS email addresses are used for communications from the college and courses that use the NDSCS Online system. Students will need to check NDSCS email frequently for communications. You may forward your college email to your personal email through the Settings option in the email system.
Go to www.ndscs.edu and click "Email" at the top of the page.
When logging in, your username will be the University System username received when you "Claimed your Account" plus @ndus.edu (example - firstname.lastname@ndus.edu).
Your email password is the same one you created in the previous step.
Your NDSCS email address is your University System username plus @ndscs.edu. i. Example - If your CampusConnection username is Lee.Smith, your NDSCS Email address is lee.smith@ndscs.edu but your email login is lee.smith@ndus.edu. May 9, 2022
If you need help accessing your email account, contact the NDSCS ITS Service Desk at ndscs.servicedesk@ndscs.edu or call 1-800-342-4325 ext. 3-3333, press prompt #5.
2. Optional – You may forward your college email to your personal account.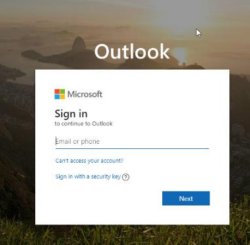 Go to www.ndscs.edu and click "Email" at the top of the page.
Log into Email.
Click the "Settings" (gear icon) in the upper right corner.
Click "View all Outlook settings".
Click "Mail" and then "Forwarding".
Click the "Enable forwarding" radio button and enter an email address to receive your college email.
Click "Save."
Forgot your password? – Go to https://ndus.rightanswers.com/portal/ss/ and click "Forgot My Password".
NDSCS Blackboard - Online Class Login
To log into online classes or campus classes using the Blackboard system, go to www.ndscs.edu and click NDSCS Online. You will use your NDUS login and password to log into online classes.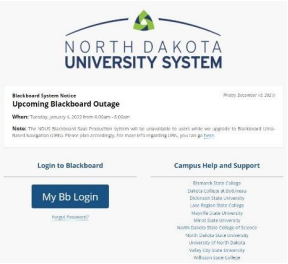 Classes begin the first day of the semester. Log into NDSCS Online and click the title of your class on the next page to begin.
NOTE: Classes will not be accessible until the first day of the semester or class session. However, students may log in before the semester begins and review the Blackboard Student Orientation to become familiar with the online course environment.
Purchasing Books for Online Classes
You can purchase your books for NDSCS classes at http://www.ndscsbookstore.com.
1. Click the "Textbooks" link at the top of the page.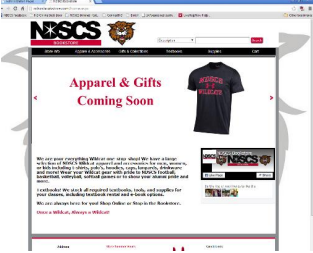 2. Click "Order Textbooks & Course Materials" from the dropdown list.
3. Check the box next to "I Understand" on the Textbook Ordering Notice and then Continue.
4. Click the "Department" (Subject) for your class. (Ex: BIOL)
5. The third box will then list several numbers within that subject area. Choose the one that you need. (You'll see the subject number, the class number you used when registering for the class, and the instructor.)
6. Repeat these steps for any additional classes you have.
7. When all your classes are listed click "View Your Materials". Your books will be displayed on the next page.
8. Click "Add to Cart" by the items you want to order. When all items are selected, click "Continue Checkout" to go to the next page.
9. Click "Continue checkout" and continue through the pages to complete your purchase.
For help with the Bookstore website, contact the Bookstore at 800-342-4325 ext. 3-2125.
Claim Your NDSCS Account - Electronic ID
This step is required for students to access campus classroom and lab computers or websites like Infobase. You may skip this until it is needed.
1. Go to apps.ndscs.edu/accounts.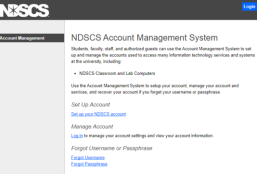 2. Click Set up your NDSCS account.
3. Fill in the form and click "I Agree".
4. Continue through the steps as prompted to create a password and set up email recovery steps.