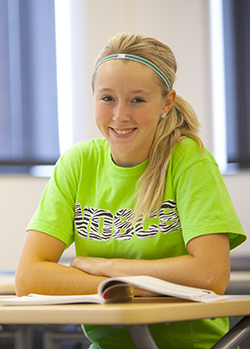 We want to make sure you succeed, and our Science of Success course is a big step in the right direction. Taken during your first semester, the one-credit course is designed to help you adjust to college in a laid back and fun atmosphere.
Topics Covered
Time Management
Financial Literacy
Wellness
Campus Services
Conflict Resolution
Study Skills
Learning Styles
"This class lowered my stress by teaching me about the various topics and it was fun to get to know other students from different programs."  FYE 101 Science of Success Student
All first-year students are required to take FYE 101 [See FYE Policy].The FYE class will be taught online to new distant students.
off
FYE 101 Exemption
FYE 101 Exemption
FYE 101 is a requirement to graduate from NDSCS. It is strongly recommended to be taken during the first semester to get the most benefit. Students who have prior college experience may qualify for an exemption and should complete the FYE 101 Exemption Form. Please see the FYE Policy for exemption criteria.
FYE 101 Exemption Form – Log into CampusConnection, go to NDSCS eForms. Under Enrollment Services, select FYE 101 Exemption. Fill out the form and click Submit at the bottom. Results will be sent via campus email.
FYE Appeal Form – If a student does not meet any of the criteria for exemption but has substantial understanding and experience with the subject-matter covered, an appeal form can be completed. Materials submitted will be evaluated by the FYE 101 Advisory Committee. Students will be notified of results through campus email or phone.
If you have questions regarding FYE 101 Science of Success, contact:
Lisa Wixo
Director of Student Success and Career Services
Old Main, 340B
701-671-2272
lisa.wixo@ndscs.edu