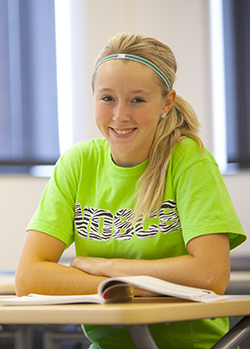 We want to make sure you succeed, and our Science of Success course is a big step in the right direction. Taken during your first semester, the one-credit course is designed to help you adjust to college in a laid back and fun atmosphere.
Topics Covered
Time Management
Financial Literacy
Wellness
Campus Services
Conflict Resolution
Study Skills
Learning Styles
"This class lowered my stress by teaching me about the various topics and it was fun to get to know other students from different programs."  FYE 101 Science of Success Student
All first-year students are required to take FYE 101 [See FYE Policy].The FYE class will be taught online to new distant students.
If you have questions regarding FYE 101 Science of Success contact:
Lisa Wixo
Director of Student Success and Career Services
Old Main, 340B
FYE Exemption Form
 -
BROWSER ALERT:
Google Chrome is known to generate an error message while trying to access this form. Use an alternative browser such as Firefox, Edge, Internet Explorer or Safari.
 Log in using your Campus Connection username and password.