Move in, get familiar with campus and kick off the academic year with a variety of fun activities during Wahpeton Welcome Week & New Student Orientation!
Move In
New Student Orientation
Family members are invited to join all activities on Saturday and the President's Brunch on Sunday
Wildcat Welcome Team will assist you with getting to know NDSCS and will guide new students through Orientation
For questions or to request accommodations during Orientation and Welcome Week activities, please contact the Student Success Center at 701-671-3000 or ndscs.studentsuccess@ndscs.edu.
Events and times are subject to change. All scheduled activities & meals are FREE to students AND family members!
Connect with other new students on social media using the hashtag #New2NDSCS!
Saturday, August 22
| Time | Activity |
| --- | --- |
| 8 a.m. - 6 p.m. | New Student Information Desk Open | Hektner Student Center |
| 8 a.m. - 8 p.m. | Customer Service Desk Open | Hektner Student Center |
| 9 a.m. - 6 p.m. | Bookstore Open |
| 10 a.m. | New Student Move-In Begins: Start your journey at the residence hall you will be living in |
| 10 a.m. - 4 p.m. | Tool Drop-off | Visit ndscs.edu/tooldropoff or see the Information Desk in Hektner Student Center for locations and times. |
| 10 a.m. - 5 p.m. | Various offices will be open to answer your questions, address your concerns and help you finalize anything before the semester begins. |
| 12 - 5 p.m. | FREE BBQ Lunch | Flickertail Dining Room, Hektner Student Center |
| 12 - 8 p.m. | Move-In Music | The Oval |
| 2 - 4 p.m. | Root Beer Floats | The Oval |
| 2 - 4 p.m. | Wildcat Willie Photo Opportunity | Hektner Student Center |
| 4 - 8 p.m. | Caricature Artist | In-person or online | Check student email for more information. |
| 5:30 - 7:30 p.m. | FREE Picnic Dinner | The Oval |
| 9 p.m. | Outdoor Movie: Knives Out | The Oval | Bring a lawn chair or blanket to sit on. |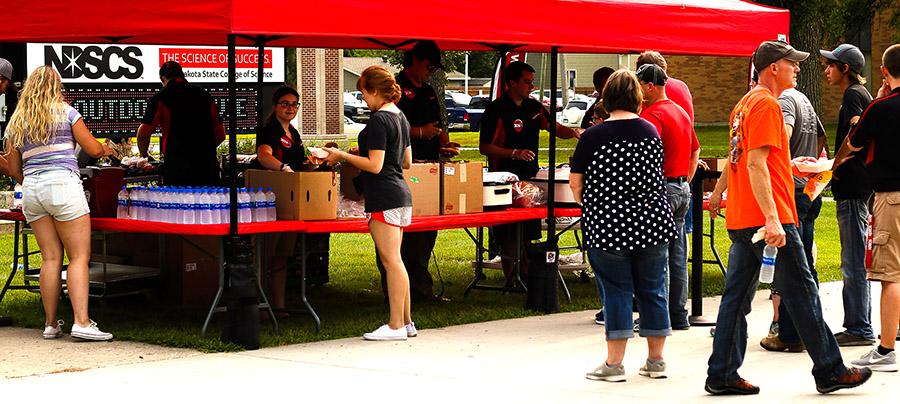 full
Sunday, August 23
| Time | Activity |
| --- | --- |
| 8 a.m. - 6 p.m. | New Student Information Desk Open | Hektner Student Center |
| 8 a.m. - 8 p.m. | Customer Service Desk Open | Hektner Student Center |
| 8 a.m. - 12:30 p.m. | Learn about Accessibility Services | Old Main 230 |
| 10 a.m. | Move-In Continues |
| 10 a.m. - 1 p.m. | FREE President's Brunch | Flickertail Dining Room, Hektner Student Center |
| 10 a.m. - 5 p.m. | Various offices will be open to answer your questions, address your concerns and help you finalize anything before the semester begins. |
| 12 - 4 p.m. | Tool Drop-off | Visit ndscs.edu/tooldropoff or see the Information Desk in Hektner Student Center for locations and times. |
| 12:30 p.m. | New Student Orientation: ALL FIRST YEAR STUDENTS MUST ATTEND! Meet at your Residence Hall or if you live off-campus, meet at the Hektner Student Center. Look for your Wildcat Welcome Team member! |
| 4 p.m. | Dining Plans Begin | Flickertail Dining Room, Hektner Student Center |
| 7 p.m. | Floor Meeting | Your Residence Hall Mandatory for students living on campus. |
| 9 p.m. - 12 a.m. | Street Dance | Lot 2 (North of Old Main) | MUST HAVE STUDENT ID! | Water provided No bags or bottles. NO RE-ENTRY PERMITTED. |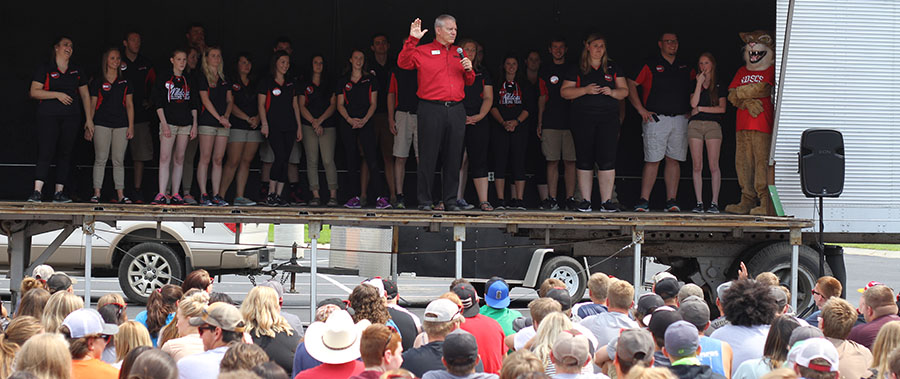 full
Monday, August 24
| Time | Activity |
| --- | --- |
| 7:45 a.m. | Campus Offices and Bookstore Open |
| 11 a.m. - 12:30 p.m. | Business Expo | The Oval |
| 11:15 a.m. | 'Northside' Students meet Wildcat Welcome Team members for lunch |
| 11:45 a.m. | 'Southside' and Commuter Students meet Wildcat Welcome Team members for lunch |
| 12:30 p.m. | New Student Academic Orientation: ALL FIRST YEAR STUDENTS MUST ATTEND! Look for your Wildcat Welcome Team member or the Information Desk in the Hektner Student Center for location. |
| 4 p.m. | CLASSES BEGIN |
| 8-11 p.m. | Oval Party | The Oval  |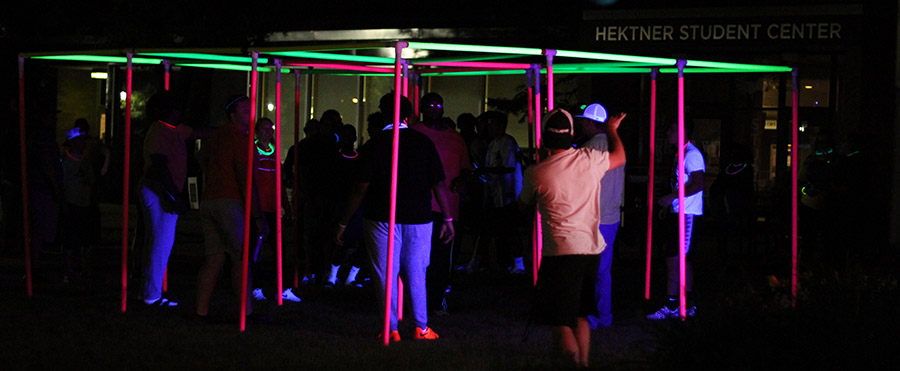 full
Tuesday, August 25 - Saturday, August 29
| Tuesday, August 25 |   |
| --- | --- |
|   | First Full Day of Classes |
| 9 p.m. | Hypnotist: Dan Lornitis | Bremer Bank Theatre, Harry Stern & Ella Stern Cultural Center MUST HAVE STUDENT ID! No late entry permitted. |
| Wednesday, August 26 |   |
| 9 p.m. | Karaoke/Open Mic Night | The Oval  |
| Thursday, August 27 |   |
| 7:30 p.m. | Student Athlete Orientation | Bremer Bank Theatre, Harry Stern & Ella Stern Cultural Center | Required for all student athletes! |
| 9 p.m. | Ivan Pecel | Bremer Bank Theatre, Harry Stern & Ella Stern Cultural Center MUST HAVE STUDENT ID! No late entry permitted. |
| Friday, August 28 |   |
| 8 p.m.  | Virtual Trivia | Watch your NDSCS student email for more information. |
| Saturday, August 29 |   |
| Time TBD | Wildcat Football vs. TBD |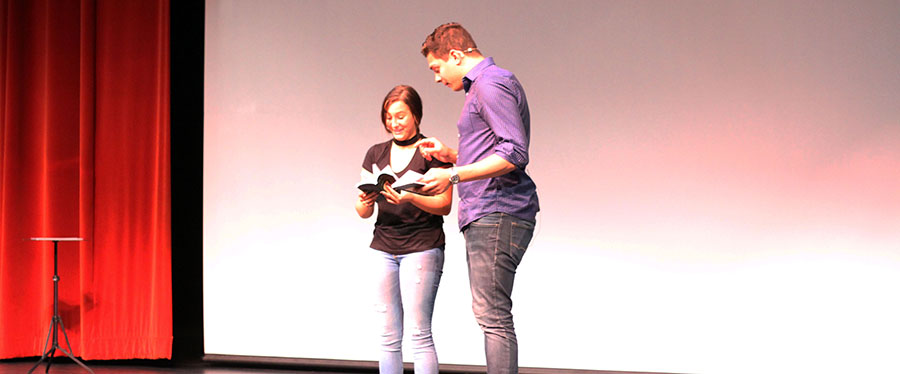 full