off
Precision Machining Technology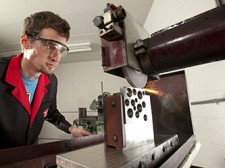 The Precision Machining Technology program provides students experience in machining as it pertains to machining, toolmaking and mold making.
Type: Certificate, Diploma, A.A.S. degree
Locations: Wahpeton
Cluster: Manufacturing, Science, Technology, Engineering and Mathematics

» View Program Information & Admission Requirements
In the NDSCS Precision Machining Technology program, you'll learn about CNC programming, CNC set-up and operation, production machining, mold making, die making, toolmaking and automated manufacturing. 
A partnership with HAAS Automation, one of the largest CNC machine tool builders, ensures that you are learning and training on state-of-the art machining equipment.