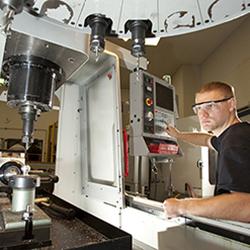 04-03-2018
North Dakota State College of Science students now have the opportunity to receive advanced metrology training as part of their education, thanks to the installation of $1.5 million in equipment, and national training certification earned by Manufacturing department faculty.
The NDSCS Manufacturing department has installed metrology equipment that allows for automated measurement and inspection of manufactured products, as well as equipment for manual measurement training. The equipment includes:
• ZEISS DuraMax Coordinate Measuring Machine (CMM) with CALYPSO software and accessories
• Snap-on Starrett® NC3 precision measurement certification kit
• Haas Wireless Intuitive Probing System (WIPS)
• ZEISS, Phillips Precision and Rayco CMM tooling and metrology accessories
In addition to the new equipment, three NDSCS instructors have completed accredited coursework to earn certification through the National Coalition of Certification Centers (NC3). The new metrology curriculum has been incorporated into the College's manufacturing programs including Precision Machining Technology, Welding Technology, and Robotics, Automation and Mechatronics Technology. In addition, all students in transportation-related programs take a manufacturing course that uses this equipment in the study of metrology.
This training initiative was made possible thanks to $1.297 in donated CALYPSO software and a $100,000 equipment discount from ZEISS, a $22,000 equipment discount from Snap-on Starrett, and a $183,000 Workforce Enhancement Grant from the North Dakota Department of Commerce.

"A big highlight of this initiative is the equipment that provides an automated method of inspecting manufactured products. This is a method that many ISO (International Organization for Standardization) certified manufacturers use," said NDSCS Manufacturing Department Chair Steve Johnson. "At the same time, we also added equipment that allows advanced training in manual measurement methods."