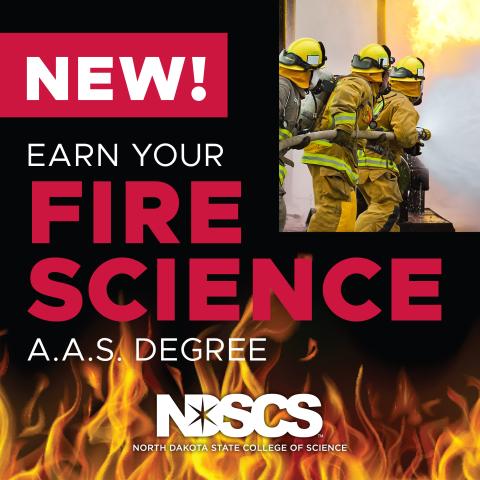 07-26-2023
North Dakota State College of Science (NDSCS) is pleased to announce the launch of a new Fire Science degree program. This innovative program aims to provide local firefighters with a practical and affordable avenue to advance their careers in the fire service.
The Fire Science program will be taught at various locations, including fire stations across the region and the North Dakota Firefighters Association (NDFA) training center in Bismarck. Additionally, future academies are planned to take place at NDSCS campuses in Fargo and Wahpeton.
Designed to meet the needs of a wide array of fire service professionals, the program caters to both new candidates seeking to join the field and veteran firefighters aiming to enhance their expertise. Cities such as Fargo, West Fargo, and Moorhead have already expressed interest in the program and arrangements are being made to enroll students from North Dakota, Minnesota, and South Dakota.
The Fire Science program is estimated to cost $10,835 for a student without any prior college credits or firefighter credentials. Recognition for Prior Learning options are also available for recently trained firefighters. Graduates will obtain a degree in Fire Science that not only equips them with advanced knowledge but also significantly enhances their career prospects within the fire service industry.
The NDSCS Fire Science program is guided by experienced leaders and instructors with deep knowledge and expertise in the field. They will ensure that the training delivered is rigorous, practical, and aligned with the evolving needs of the fire service industry.
NDSCS is thrilled to offer this much-needed program and looks forward to fostering a new generation of highly skilled firefighters ready to serve and protect their communities.
We are delighted to extend the program to volunteer firefighters as well. They can participate in NDFA regional academies throughout North Dakota, and efforts are underway to provide classes in other states.
Inquiries about the program should be directed to the Fire Science Program Coordinator, Clinton Gilbertson, who can be reached via email at Clinton.Gilbertson@ndscs.edu or by phone at 701-671-2329.
For more information about the Fire Science program, visit NDSCS's website at NDSCS.edu/FireScience.