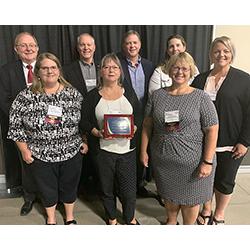 08-08-2019
By North Dakota Career and Technical Education
The Special Populations program at North Dakota State College of Science was presented the Director's Award of Excellence during the opening session at the 49th Annual Department of Career and Technical Education Professional Development Conference held at the Bismarck Event Center in Bismarck. The award is an acknowledgement of superior career and technical education programs in North Dakota. Accepting the award was John Richman, President, Harvey Link, Vice President of Academic Affairs, Ken Kompelien, Dean of Arts, Science and Business Division and Maria Kaduc, Department Chair of Academic Services Center and Kara Gruenberg, Suzanne Hagelstrom, Traci Eklund, Larissa Gilbertson, Cindy Lee Deuser program instructors.
The program was recognized for:
Enhancing student achievement and increasing student retention by providing a wide range of college readiness courses, activities, and services at the Academic Services Center (ASC).
Acknowledging the ASC as the only NADE accredited development program in the region and all faculty in the department as members of the NDACTSNE, with three serving on the Executive Board.