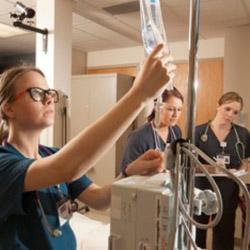 05-29-2018
The NDSCS Practical Nursing Southeast North Dakota cohort achieved a 100% first-time pass rate on the National Council Licensure Exam for Practical Nurses (NCLEX-PN). The students graduated from NDSCS in December 2017 with an Associate in Applied Science degree in Practical Nursing.
The students in this cohort, from Lisbon, Ellendale, Oakes and surrounding areas in North Dakota, completed their studies over a three-year period in Oakes, N.D. The program consisted of evening classes and clinical experience based in southeast North Dakota, allowing students to continue with their current employment and maintain other responsibilities.
Community businesses and organizations in southeast North Dakota donated dollars to help fund the program offered in Oakes, N.D. These area donors include:
City of Lisbon Star Fund, Lisbon, N.D.
Ransom County Economic Development, Lisbon, N.D.
Dickey County, Ellendale, N.D.
Good Samaritan Society, Oakes, N.D.
Oakes Enhancement Initiatives, Oakes, N.D.
Sanford Oakes Clinic, Oakes, N.D.
NDSCS offers three academic options for Nursing students. The Practical Nursing program is for students who are interested in pursuing a career in nursing or wish to transfer to an associate or bachelor's program for nursing. The two-year Associate in Applied Science Registered Nursing program is available to applicants wishing to become a Registered Nurse. The Associate in Science for Nursing program is available to Licensed Practical Nurses who wish to continue their nursing education and become a Registered Nurse. In addition to its regular cohorts, NDSCS has conducted more than 30 satellite nursing programs as part of its commitment to meeting the workforce needs of rural North Dakota and the region.
For further information on the NDSCS nursing programs visit ndscs.edu/nursing or email alliedhealthcareers@ndscs.edu.