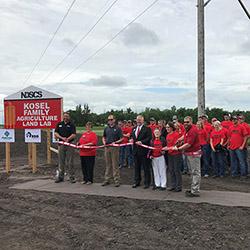 06-25-2018
North Dakota State College of Science dedicated its new Kosel Family Agriculture Land Lab today, and recognized local businesses who are providing educational opportunities through their involvement with the land lab. The land lab, located along Richland County Road 10, enables NDSCS Agriculture students to receive hands-on experience in the field to prepare them with skills needed for a career in agriculture.
In May 2017, Linda Patterson and Mary Kosel made a donation to the NDSCS Foundation, allowing for the use of nearly 95 acres of farmland to become an agricultural land laboratory. The NDSCS Foundation requested proposals from agricultural businesses to collaborate with the NDSCS Agriculture department to provide learning opportunities for Agriculture students through the use of the land lab. That process led to memorandums of agreement with Peterson Farms Seed and RDO Equipment Co., who are now actively using the land lab and creating educational opportunities for NDSCS students.
"Our students are looking for hands-on learning experiences. The applied learning and demonstrations at the land lab resonate with them and add to their learning experience," said NDSCS Agriculture Chair Craig Zimprich. "They are also able to gain insight from business and industry representatives who are sharing their knowledge with our students."
The collaboration between Peterson Farms Seed, RDO Equipment Co. and the NDSCS Agriculture department is allowing for applied research and demonstrations, and bringing additional expertise to students' educational experience. Students are learning from the crops that have been planted at the land lab, and are seeing demonstrations about multiple farming practices.
"We're proud to have the opportunity to work with NDSCS and the Land Lab through this unique public-private partnership," Joel Kaczynski, said RDO Equipment Co. Product Specialist Manager. "This allows the RDO Equipment Co. team to directly demonstrate the concepts of precision agriculture, and pass along the experience and learnings to NDSCS students, our customers, and the community."
"We're excited to work with NDSCS on this Land Lab," said Peterson Farms Seed Agronomy Lead Adam Spelhaug. "We've had a good relationship with NDSCS over the years and this a great way to share some of the work we do in genetic testing. We have some population tests on different hybrids the students will be able to observe along with some seed treatment and variety trials."
Each year, the NDSCS Agriculture Department serves approximately 80-90 students who are intending to enter production agriculture or the associated sales and service industries after obtaining their Associate in Applied Science (A. A. S.) degree in Agriculture from NDSCS. Individuals interested in the program can learn more online at ndscs.edu/ag, or by attending the College's Ag Day on Wednesday, November 7. More information and registration for this event can be found online at ndscs.edu/specialevent.