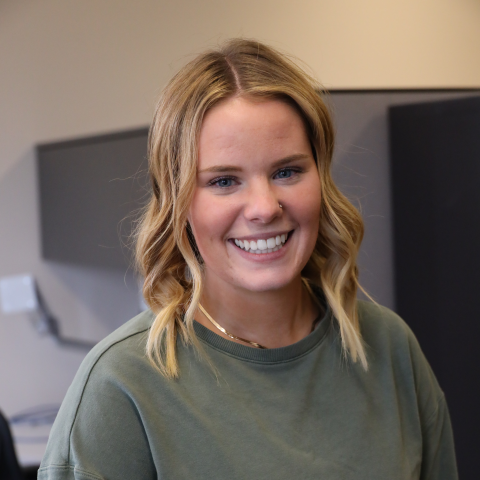 11-02-2023
Bailey Adams, a 2022 NDSCS Business Management graduate, is thriving in small-town living and is making a significant impact on her community. The journey to her career, through her education at NDSCS, is unique and is marked by her flexibility and willingness to adapt. During her junior year in high school, Bailey was uncertain about her future and considered joining the military as a potential path forward.
During her senior year in high school, with no concrete college plans after graduation, she registered for the North Dakota Air National Guard. Bailey graduated from Richland 44 high school in 2019.
Basic training for the military wasn't scheduled until the following spring, so Bailey took the opportunity to enroll at NDSCS, during opening weekend in the Fall of 2019. The college's flexibility for late enrollment allowed her to participate in general education courses during that fall semester.
As the Spring of 2020 arrived, Bailey was called away for basic training and specific job training with the military, and was there from March to November, 2020. As she awaited her next military assignment, Bailey decided to enroll for the spring 2021 semester, this time choosing to study Business Management.
During her two years at NDSCS, Bailey formed lasting friendships and participated in campus life, attending athletic competitions and student events. Throughout her time in the Business Management program, Bailey found even more opportunity for her future.
Rebecca Undem, a public speaker and founder of Growing Small Towns, visited NDSCS to deliver a presentation to one of Bailey's classes. Growing Small Towns is a non-profit organization in Oakes, ND, dedicated to helping small towns thrive by facilitating partnerships between local non-profits and larger corporations, helps entrepreneurs start and scale their businesses, and hosts gathering space for various sized meetings and events. Inspired by the presentation and cooperative work on a project for the Oakes community, Bailey secured an internship for Fall 2022.
While in her internship, Bailey contributed to Growing Small Towns in various capacities, from managing social media marketing to updating the company's website. Prior to Bailey's graduation from NDSCS in December 2022, Rebecca offered her a full-time position, and a more significant role within the organization.
Today, Bailey is an essential part of Growing Small Towns, involved in event planning and coordination, building management, invoicing, and much more. Her role allows her to engage in activities that enrich local communities, from planning meetings and company parties to co-working rentals and even an upcoming fashion show. Her favorite events have been the annual bus trips that bring people from the Fargo area to explore the hidden treasures of North Dakota's small towns.
Bailey attributes much of her success to her education at NDSCS, specifically highlighting the Quickbooks Accounting and Career Seminar courses that equipped her with important skills for both her personal and professional life. Her journey from uncertainty to making a meaningful impact in her small town serves as an inspiring example of the potential that can be unlocked through determination and higher education.