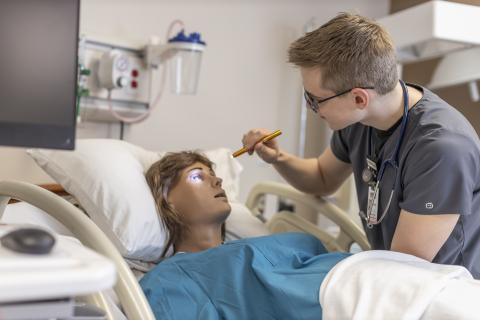 08-02-2023
NDSCS is excited to announce that the Spring 2023 two-year Associate of Applied Science (A.A.S.) Registered Nurse graduating cohort achieved a 100% first time pass rate on the NCLEX-RN (National Council Licensure Examination [for] Registered Nurses).
This achievement is even more remarkable when considering that this year's NCLEX featured the new test format known at the Next Generation NCLEX. The new Next Gen NCLEX had significant changes to the exam. The exam format changed to include case study-based questions. Each case study presented a patient scenario accompanied by six questions. The questions build on each other, requiring students to carefully consider the information provided before selecting the correct response. The new Next Gen NCLEX requires a deeper understanding of the disease process and the ability to apply knowledge effectively in relation to patient care.
NDSCS offers three academic options for Nursing students. The Practical Nursing program is for students who are interested in pursuing a career in nursing or wish to transfer to an associate or bachelor's program for nursing. The two-year Associate in Applied Science Registered Nursing program is available to applicants wishing to become a Registered Nurse. The LPN to RN Nursing program is available to Licensed Practical Nurses who wish to continue their nursing education and become a Registered Nurse.
Visit the NDSCS Nursing website at NDSCS.edu/Nursing to learn more!
Article written by NDSCS and submitted to external news outlets.