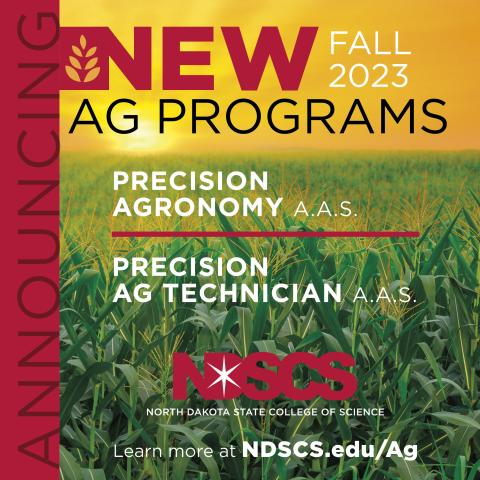 02-07-2023
North Dakota State College of Science will offer Associate in Applied Science degrees in Precision Agronomy and Precision Agriculture Technician starting in the fall of 2023. Approved by the State Board of Higher Education, the new degree programs are aimed at meeting industry needs and the growing demand among students looking to pursue emerging career opportunities in agriculture.
The Precision Agronomy degree is a two-year, 69-credit program that will prepare students to use precision technology to guide agriculture production decisions. "Graduates will have the ability to use technology like mapping to make the best agronomic choices on their farms or when working with a producer through an agronomy center," said Craig Zimprich, chair of the Agriculture Department. NDSCS developed the program in response to industry demand for employees with expertise in agronomy and precision agriculture. Currently, the NDSCS Agriculture Department offers emphasis options in agronomy and precision agriculture. This new program will merge the options and expand into a standalone associate degree. The curriculum will include courses in plant and soil sciences, agriculture sales, field crop scouting, software, data management and business management. Zimprich believes the expanded curriculum and standalone degree will attract and graduate more students needed to meet the high workforce demand.
The Precision Agriculture Technician degree is a two-year, 69-credit program focused on agriculture equipment. Students will be trained in selling, installing, maintaining, and troubleshooting precision hardware and software on agriculture equipment. NDSCS worked with industry partners and heavy equipment dealerships to develop the program to meet their workforce needs. Zimprich explained that students will gain an agronomic background with a technical understanding of equipment to fill a void between the producer and the dealership. The curriculum will include courses in agronomy, sales and agriculture business, precision agriculture, and heavy equipment electrical and hydraulics. "When we talk to students about this program, their eyes light up because it's ag and equipment. There's a lot of students who like that idea," said Zimprich.
First-year student Hunter Albert of Barnesville, Minn., will be one of the first graduates in the Precision Agriculture Technician degree program. "I've always wanted to be on the technology side of farming, working on equipment," Albert said. "It's where the future is in farming." Sponsored by Titan Machinery, Albert plans to complete the degree requirements next spring.
To prepare for successful careers in the rapidly evolving agriculture industry, students in both new programs will receive hands-on training at the NDSCS Kosel Family Agriculture Land Lab, a 90-acre demonstration farm operated by the Agriculture Department, students, and industry partners. Students will also gain professional experience during a 400-hour paid internship between their first and second years of instruction.
In addition to the two new degrees, NDSCS will continue to offer an A.A.S. degree in Agriculture with emphasis options in farm management, ranch management, animal science, and ag business, along with a certificate in meat processing. More information about the degrees can be found online at NDSCS.edu/Ag.
Article written by NDSCS and submitted to external news outlets.