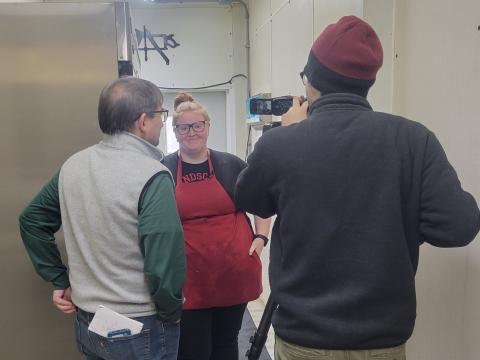 11-07-2022
On the first day of their internship at a small town meat locker, Alissa Metzger and Grace Lamberson were breaking down a hog carcass to cut into pork chops, roasts, and other cuts and packaging up orders for customers.
Using the large saw was "a little scary, I'm not going to lie," Lamberson said. But the experience is the culmination of her other course work in meat processing at the North Dakota State College of Science. "It all adds up and starts making sense," Lamberson said.
Lamberson and Metzger are a couple of the first students going through the meat cutting program at the college. Meat cutting programs are popping up to help meet the demand for skilled workers in a field that has seen renewed interest, especially after COVID-19 forced shutdowns at major meatpackers, forcing farmers to scramble for help.
Metzger and Lamberson are coming into the program from the culinary side, not the ag side. "I wanted to actually learn, like, how you actually break down those big carcass animals down to what we eat and what is on our plate," Metzger said.
The North Dakota State College of Science in Wahpeton, and two Minnesota schools — Ridgewater College in Willmar and Central Lakes College in Staples — have new meat cutting programs. Western Dakota Technical College in Rapid City, South Dakota, and Dickinson State University in western North Dakota also are adding programs.
Craig Zimprich, department chairman for agriculture at NDSCS used the term "desperation," from the meat industry looking for workers. He said he has gotten a lot of calls from employers looking for students. Some of them are local lockers plants hoping looking for someone who might be able to eventually take over the business in a few years Zimprich said the nine-month meat cutting program can turn into "truly a lifelong career."
Zimprich said he also has gotten calls from livestock farms that are interested in doing more of their own processing and marketing. And if someone already has a degree, just the meat cutting portion of the program could be done in one semester.
Zimprich said the program can be tailored to meet the career of a prospective student.
Metzger is working in a kitchen at an elder care facility and said she already has some job offers but isn't quite sure yet where she really wants to apply her skills. Her original plan was to open a bakery but "that's kind of changed now," she said.
The NDSCS campus is about 50 miles south of the North Dakota State University campus. NDSU already had a meat lab with cutting equipment, so NDSCS and NDSU partnered on a grant to start the nine-month meat cutting program.
Zimprich said the grant also provided some scholarship money, and the North Dakota Beef Council also is paying for two students to go through the program. The program is starting with five students but Zimprich said there is room for about 14.
Building programs
While NDSU already had a meat lab that NDSCS could access, other schools are taking different approaches as their programs get rolling. Central Lakes College is offering a one semester course that is all in-person classes taught in the evenings at the Staples, Minnesota, campus by Jess Feierabend.
The main Central Lakes campus is in Brainerd but Staples is home to the school's ag program and meat cutting fits into that. "So we try to involve a little bit of agriculture and a little bit of what meat production looks like from start to finish, so from farm to fork," Feierabend said. "And we understand that a lot of students aren't going to use all of that philosophy but there's different spots within the industry that they will be able to work in." The college is working with the Minnesota Farmers Union to obtain a mobile slaughter unit and plans to develop a retail module.
Feierabend said the eight students enrolled in the current semester range from an 18-year-old to a person in their 50s looking for a career change. The students were tasked with lining up an internship. In doing so, all of them were offered a job. "So instead of just going to the internship, they're virtually getting hired on the spot to help these guys out," Feierabend said. "There is a huge demand for it right now."
Ridgewater College is taking a very different approach. The lecture portion of the classes is all remote learning but again students must line up a business with meat cutting equipment to get the hands-on experience. "So the students can essentially take the classes wherever they are, wherever they want," said Sophia Thommes, the meat cutting instructor at Ridgewater. With classes being remote, the college can serve students across a wide area. She even has a student in Florida. "Students can come from anywhere in the country that they want," said Jeff Miller, dean of instruction at Ridgewater College.
Ridgewater currently has eight students but Thommes is expecting 15 to 20 students for the spring semester. Some of the current students already are working in the meat industry in some way but want to add a certificate to their resume. Others are coming in with zero experience. Ridgewater also plans more advanced courses. "This is really one certificate that will stack into a more advanced meat processing that will be coming next year," Miller said. "And then a third certificate that will be the meat cutting entrepreneur." First year students learn things such as safety, slaughtering, and ethical treatment of animals. "The student can either enroll in the full certificate or pick the courses that meet their needs," Miller said. "Our goal is to really meet students where they're at with this."
'Dwindled away'
Manock Meats is in Great Bend, North Dakota, population 52, and a short drive from the NDSCS campus.
Steve Manock says he has been in the business since he was about 6 years old, when his dad bought the business. He bought it from his dad when he was 21 and has been running it for about 40 years.
Manock Meats is one of just two meat lockers left in Richland County, butchering livestock that sometimes come from more than 100 miles away. "When I was growing as a kid there was one in every town and they have just dwindled away over the years," Manock said. "There was nobody to take them over."
The lack of meat processing means that farmers who used to be able to schedule an animal a week or two in advance now might have to schedule a year or more out, sometimes before the animal is even born.
Manock says he is the only custom processor of poultry left in North Dakota and has butchered up to 450 birds in one day, but says he tries to keep it more manageable at 200 to 250 birds in one day.
But he also likes the variety that comes with processing many different animals.
He encourages other small meat processors into partnering with a college for interns. "They struggled on a few parts but then I said 'here's another one' and by the end of the day they had it down pat already," Manock said. "I give 'em a straight A for today."
Article written by John Beach for AgWeek and Inforum on November 7, 2022. 
Watch the AgweekTV episode here — NDSCS Meat Processing program highlighted at 10:36.